* This Blog is reader-supported. When you buy through links on our site, we may earn an affiliate commission.
The Black Friday and Cyber Monday week always offer a good opportunity to buy a certain kitchen tool you've been looking for a long time, which, however, could be too pricy sometimes in regular price.
For this year's Black Friday season, I started looking for the best cooking tools and best black friday cookware deals in 2023. All of these Kitchen Tools are products I either use myself for my cooking on a regular basis or tools that I would recommend getting to help you with your daily cooking tasks.
These Deals will be spread out over 11 days between November 17-27. As an Amazon Associate, I know which products will get a discount for Black Friday, but please note that I don't know yet how much $$ they will be off.

If the product you're interested in has not yet a discount, just check a few days later, as deals for the following Cookware will be spread out day by day. Also please note, that these deals are subject to change.
To make your life a bit easier, I also sorted all cookware into the following categories.
Best Black Friday Cookware Deals 2023 – Table of Contents
Kitchen Appliances
KitchenAid Artisan 5 Quart Tilt-Head Stand Mixer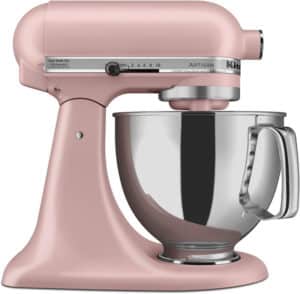 The KitchenAid, next to Kenwood Products, is one of the top players when it comes to Stand Mixers. The KitchenAid Artisan is a great quality and versatile Stand Mixer that is found in many home kitchens for a reason. The 5 Quart version of the Artisan is big enough to help you in the kitchen with tasks like kneading dough, mixing batter, or whipping cream/eggs.
There are also different colors available with the link below.
Check deal
KitchenAid Artisan Mini 3.5 Quart Tilt-Head Stand Mixer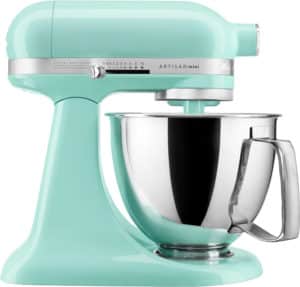 The KitchenAid Artisan Mini is the smaller brother of the 5 Quart Stand mixer mentioned above. This smaller version with a 3.5 Quart capacity takes less space in the kitchen but is still sufficient for most applications.
Check deal
Instant Pot Vortex Plus 6-Quart Air Fryer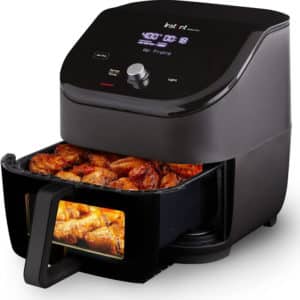 The air fryer is probably the trendiest kitchen appliance you can currently have on the market. The brand Instant Pot is famous for its very versatile pressure cooker. Needless to say the Vortex Plus air fryer with a 6-quart capacity might not disappoint and gives you a lot of space to fry whatever you and your family are craving.
Check deal
Instant Pot Vortex 6-in-1, 3 Quart Air Fryer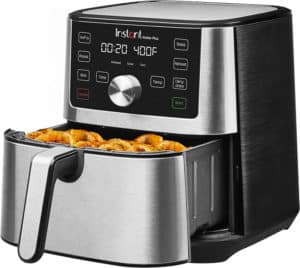 Like the bigger brother mentioned above, the 6-in-1 Vortex with a 3-quart capacity gives you a lot of different functions and probably enough space to air fry food for 1-2 persons.
Check deal
Hamilton Beach Electric Tea Kettle & Water Boiler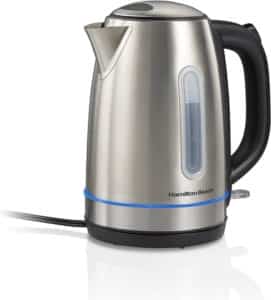 An electric Water boiler, in my opinion, is one of those kitchen appliances that will save you a lot of time in the kitchen. Instead of heating up a pot of water on the stove, you can quickly boil your water in the kettle and then put it in the pot to cook some pasta or anything else. However, a water boiler is just as useful to just boil a few cups of water for your cup of tea.
Check deal
Ninja BL610 Professional 72oz, 1000W Blender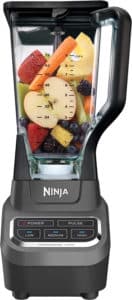 The blenders from Ninja are one of the best in its class, but compared to the very best blenders from Vitamix coming next, the Ninja Blenders come at a more affordable price. This BL610 Professional blender also comes with a quite large capacity of 72oz and offers enough power to mix smoothies, sauces, or whatever you might need it for.
Check deal
Vitamix E310 Explorian Blender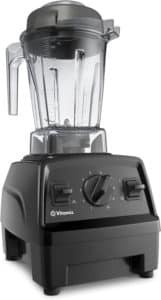 When speaking about powerful blenders, there might be one brand that stands out, which is Vitamix. These powerful but also versatile blenders are found in many advanced home kitchens and professional kitchens alike. If 48oz is enough for most of your needs in terms of blending and mixing, this is definitely a great deal you should check out.
Check deal
Breville Sous Chef 16-Cup Food Processor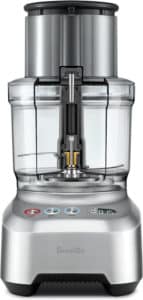 Food Processors are one of the most versatile kitchen appliances there is. They'll help you with things like cutting, mixing, mincing, puree, blending, etc. Be it from making your own homemade Pesto or just to chop vegetables or herbs. A good quality food processor like this one from Breville is definitely an investment you won't regret.
Check deal
Pots and Pans
Pots and pans are one of the most important cookware in any kitchen. A high-quality pan or pot will hold for a long time or even generations and help you to prepare your food the way you need it. These are some of the best black Friday cookware deals for pots & pans I found.
Le Creuset Enameled Cast Iron Dutch Oven
The Ferrari of the Dutch Ovens, so to speak. And you even don't have to choose it in red, there are a lot of different colors to choose from. Le Creuset is one of the most known brands for high-quality and very durable cast iron cookware. A Dutch oven is not only a must-have when cooking a lot of French recipes, but a tool that you buy once in a lifetime if you not already got one from your parents or grandparents.
There will be another, cheaper Dutch oven coming below, but if you want to go with the best brand in this regard, this is definitely a great deal.
Check deal
Le Creuset 9-Piece Signature Cookware Set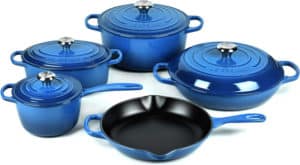 If a Dutch oven/roaster is only the beginning and you're looking to invest in a whole set of the best-cast iron cookware, you might not be able to get it cheaper than now with this black friday cookware deal.
Check deal
Lodge 6 Quart Enameled Cast Iron Dutch Oven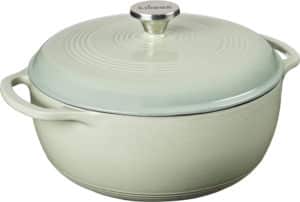 Lodge is another quality and well-known player in the cast iron cookware industry. If you want a slightly cheaper Dutch oven than the ones from Le Creuset and a piece of cookware from an American manufacturer, then this might be the one for you!
Check deal
Lodge 12-Inch Cast Iron Skillet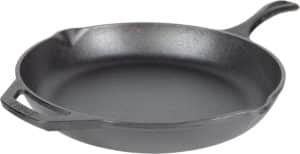 A large cast iron frying pan with taller sides (read the differences in my pan guide) is one of the best and most interesting pieces of cooking equipment to cook with. I'm using my Lodge cast iron skillet a lot for things like roasted potatoes, steaks (meat in general), stews, or roasted vegetables just to mention a few. This will also be a once-in-a-lifetime investment.
Check deal
All-Clad HA1 Hard Anodized Nonstick Fry Pan Set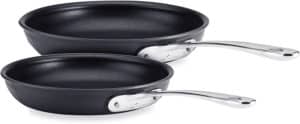 All-Clad is one of the bigger players when it comes to professional cookware, not only for home-, but also professional kitchens. Now you will get a set of two fantastic and nonstick frying pans with metal handles (you can put them into the oven) at a cheaper price. This makes this high-quality fry pan set one of the best black Friday cookware deals.
Check deal
Utopia Kitchen Sauté fry pan Set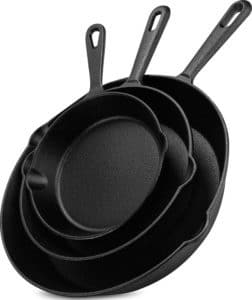 If you're looking for a whole 3-pair set of cast iron skillets, then this is the deal for you.
Check deal
Sensarte Nonstick 10/11/12-Inch Sauté Pan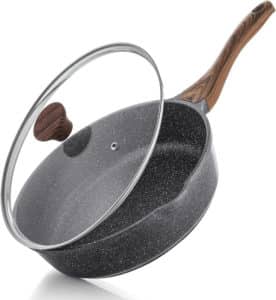 Sauté pans are one of the most versatile types of pans as you can read in my guide, comparing them to regular frying pans. With this deal, you get a large Nonstick Sauté pan from the brand Sensarte in different sizes. As with most saute pans, this one also comes with a lid and this particular pan also offers you enough space for recipes like my Adobo Chicken or larger curries.
Check deal
Cuisinart Stainless Steel 5.5 Quart Sauté Pan

Cuisinart is another big player in the cookware industry with top-notch pans like this professional stainless steel 5.5 Quart Sauté Pan. Here, you get one of the most versatile pans with a great discount.
Check deal
Caraway Nonstick 12-Piece Ceramic Cookware Set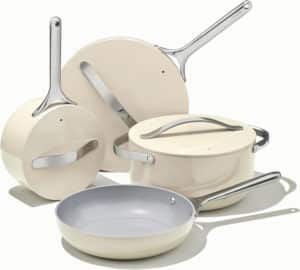 Are you moving into your first apartment and looking for a great large set of pans and pots to start your cooking journey in your new, own kitchen? This Nonstick 12-piece set of ceramic cookware comes at a great price.
Check deal
Eslite Life Nonstick 11 Inch Crepe Pan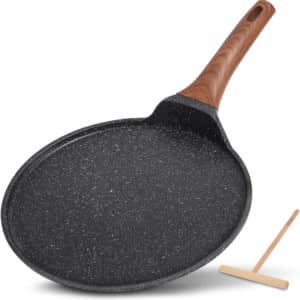 For all lovers of crepes out there. This pan cannot only used for that, but also to warmth tortillas, making Vietnamese Bánh cuốn or other things that neet a large and flat surface.
Check deal
NordicWare Cast Aluminum Belgium Waffle Iron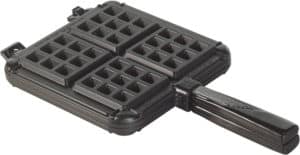 Are you a lover of Belgium waffles and using a gas stove in your home kitchen, then this Belgium waffle iron will heave your Waffle game to another level.
Check deal
Kitchen Utensils
These are some of the most well-known kitchen utensils from quality brands in the cooking/kitchen industry.
Le Creuset Silicone Utensils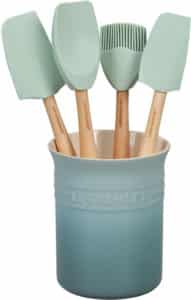 Not only a good quality and well-made set of silicone utensils from Le Creuset, but also a pretty good-looking set as well.
Check deal
GloTika Large 15oz Potato Masher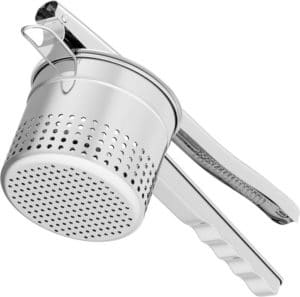 If you want to make fresh and homemade mashed potatoes at home, a tool like this potato masher is inevitable and will help you to squeeze the cooked potatoes into a very small and fine texture.
Check deal
Wüsthof Classic Ikon 16-Piece Knife Set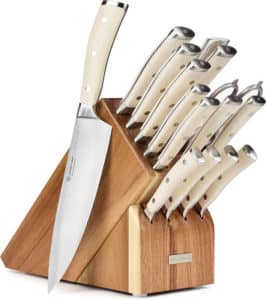 One of the big names when it comes to high-quality western- or German-style kitchen knives. With this set, you not only get a super wide range of sharp, and super sturdy kitchen sets for any possible cutting needs. You also get a great-looking and sturdy wooden knife holder. This makes this knife set one of the best black Friday cookware deals in 2023.
Check deal
HiWare 4-Piece Cutting Boards Set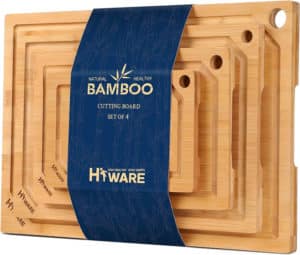 If you never had the pleasure before of cutting your ingredients on wood instead of plastic, then this might be a great set to start with!
Check deal
Baking
Amazon Basics 6-Piece Baking Sheet Set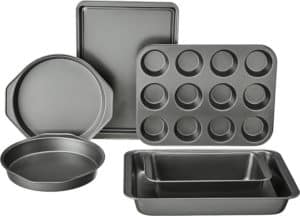 A large and very affordable set of all baking pans and forms you might need to make the best double chocolate cookies, a light easter cake, or anything else.
Check deal
Dowan white 9×13 Inch Ceramic Casserole Dish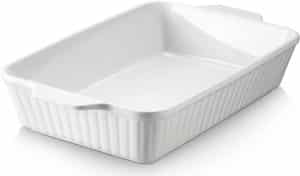 Are you a fan of lasagne, gratin, pasta al forno or tiramisu? They all have one in common, they will look awesome in this lovely white ceramic casserole dish!
Check deal
Nordic Ware Half Sheet with Nonstick Grid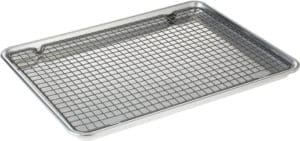 A baking sheet with a nonstick grid is a super versatile piece of equipment, not only to let your cakes cool down but also to drain the excess fat of your food when deep frying.
Check deal
Dishware
MDZF 8-Inch Deep Porcelain Dinner Dishes Set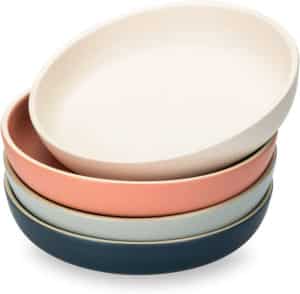 Looking for a lovely looking 4-piece Set of deep porcelain dinner plates for your family?
Check deal
MDZF 8.3-Inch Porcelain Dinner Plate-Set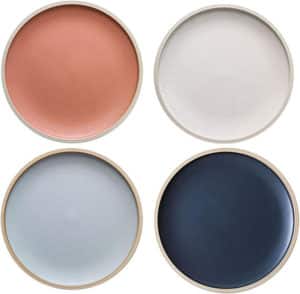 Like the set above, MDZF also offers a 4-piece set of flat 8.3-inch dinner plates.
Check deal
* My content may contain affiliate links for products I love, use, reviewed or tested myself. If you take action or make a purchase through any of these links, you provide compensation to us at no additional cost to you. This leaves me with some money for my coffee, which is much appreciated when creating new recipes, articles, and videos.