This Filipino chicken recipe is a widely popular and beloved dish in the Philippines and is best eaten together with freshly cooked rice. Although the Philippines does not have an officially designated national dish, Filipino Chicken Adobo could be considered the unofficial national dish due to its widespread popularity and significance in Filipino cuisine and culture. The preparation of Adobo varies from one household to another, showcasing the dish's adaptability and cultural significance.
What is chicken Adobo made of
Filipino Chicken Adobo is made of chicken pieces (sometimes pork or a combination of both) marinated in a mixture of vinegar, soy sauce, garlic, bay leaves, and black peppercorns. The marinated meat (mostly chicken or pork) is then braised in the same mixture until tender and the sauce is reduced, resulting in a super flavorful and savory dish.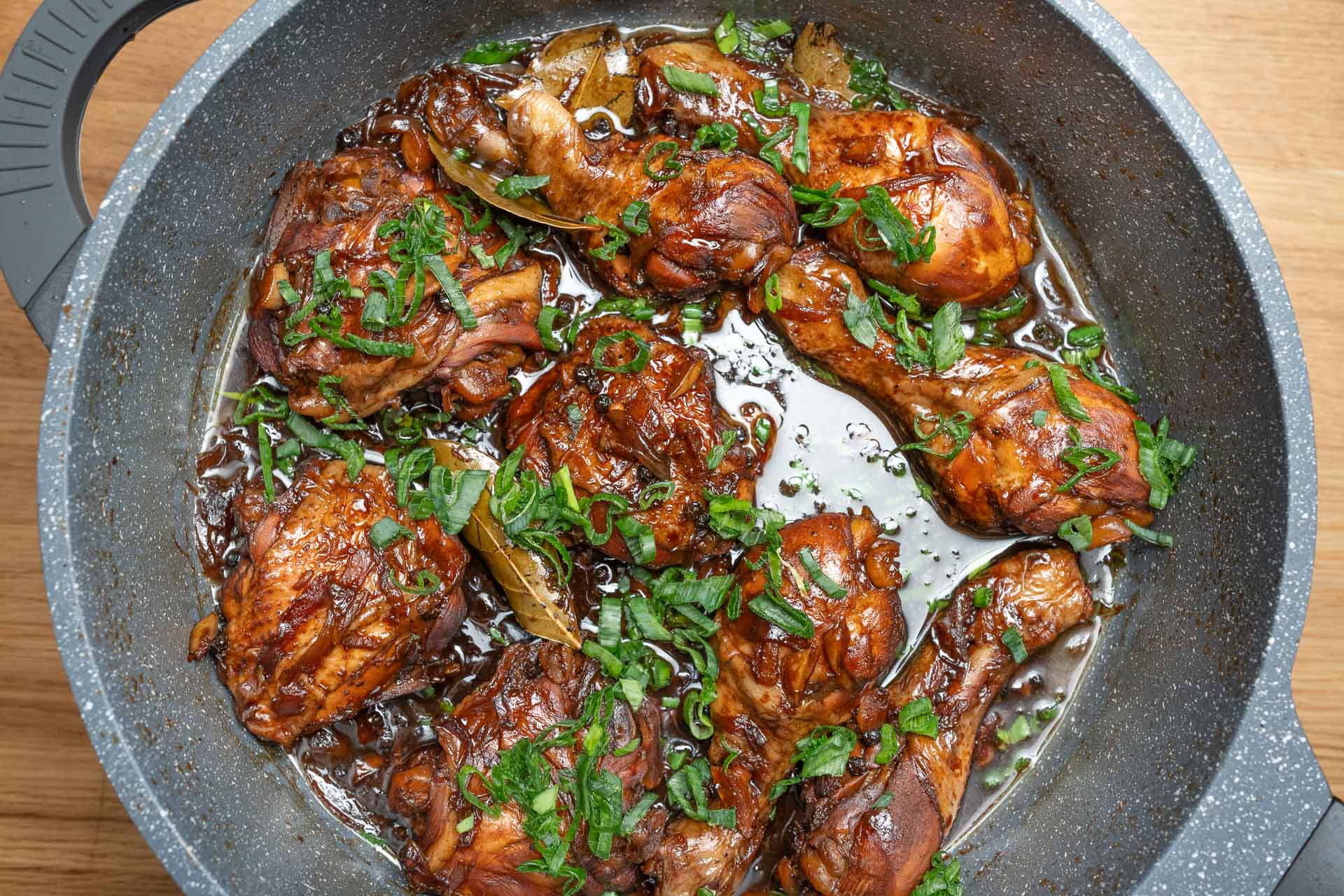 Where did chicken Adobo originate?
Chicken Adobo originated back in the pre-colonial era. This makes this delicious chicken stew one of the oldest Filipino chicken recipes still widely enjoyed today. Regarding its name, the term "adobo" comes from the Spanish word "adobar," which means to marinate or to season. However, apart from similarities in name, the Filipino adobo is distinguishable from the Spanish version. A Filipino chicken adobo incorporates indigenous ingredients and cooking methods such as soy sauce and Filipino cane vinegar.
What makes Adobo so good?
What makes Adobo so good has to do with its unique and savory taste. The combination of vinegar, soy sauce, garlic, bay leaves, and black peppercorns creates a unique and irresistible flavor profile. The tanginess from the vinegar, the richness of the soy sauce, the aromatic garlic, and the subtle bitterness of the bay leaves all come together to form a harmonious blend of flavors.
A friend of mine with Filipino roots once cooked a chicken adobo for me and I was amazed by the delicious play between vinegar and soy sauce and how many flavors come out of a good Filipino chicken adobo recipe.
I'd say that this Filipino chicken recipe is proof of the successful interplay of the four basic elements of cooking, which are salt, fat, acid, and heat. In my opinion, this makes Chicken Adobo one of the best, if not the best chicken recipe ever!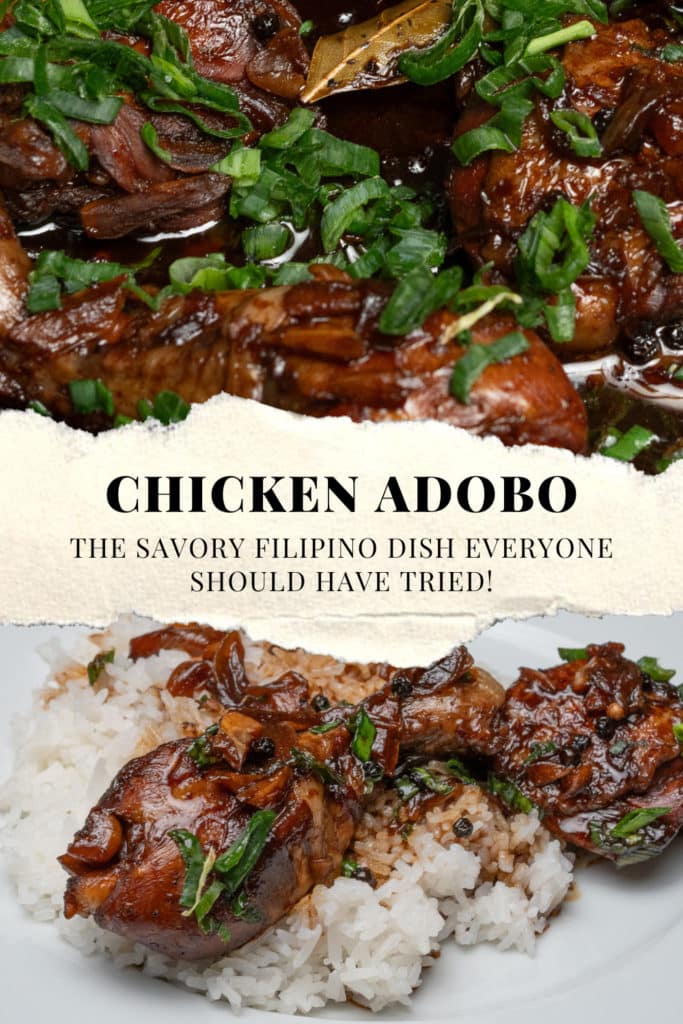 How does chicken Adobo taste like?
Filipino chicken adobo has a distinctive taste that can be described as rich, savory, tangy, and umami. The flavor profile of this dish could be broken down like this:
Savory
The soy sauce and garlic contribute to the savory and umami aspects of chicken adobo. Especially the combination of salt (soy sauce) and acidity (vinegar) creates a delicious and complex savory taste.
Tangy
The tanginess comes from the use of vinegar in the marinade, which balances the other flavors and saltiness.
Garlicky
Garlic plays a big role in this Filipino recipe. Adobo is often generously flavored with garlic, which adds a pungent and aromatic element to the dish.
Sugar
Most, but not all adobo recipes include a little sugar to add a touch of sweetness to balance the sour and salty elements.
Earthy
The addition of whole black peppercorns and bay leaves gives Adobo a subtle earthy undertone.
To summarize, Filipino Chicken Adobo is a luscious and appetizing dish well balanced between sour, savory, and garlic-forward tastes. A true representation of Filipino comfort food!
Ingredients for a delicious Adobo made at home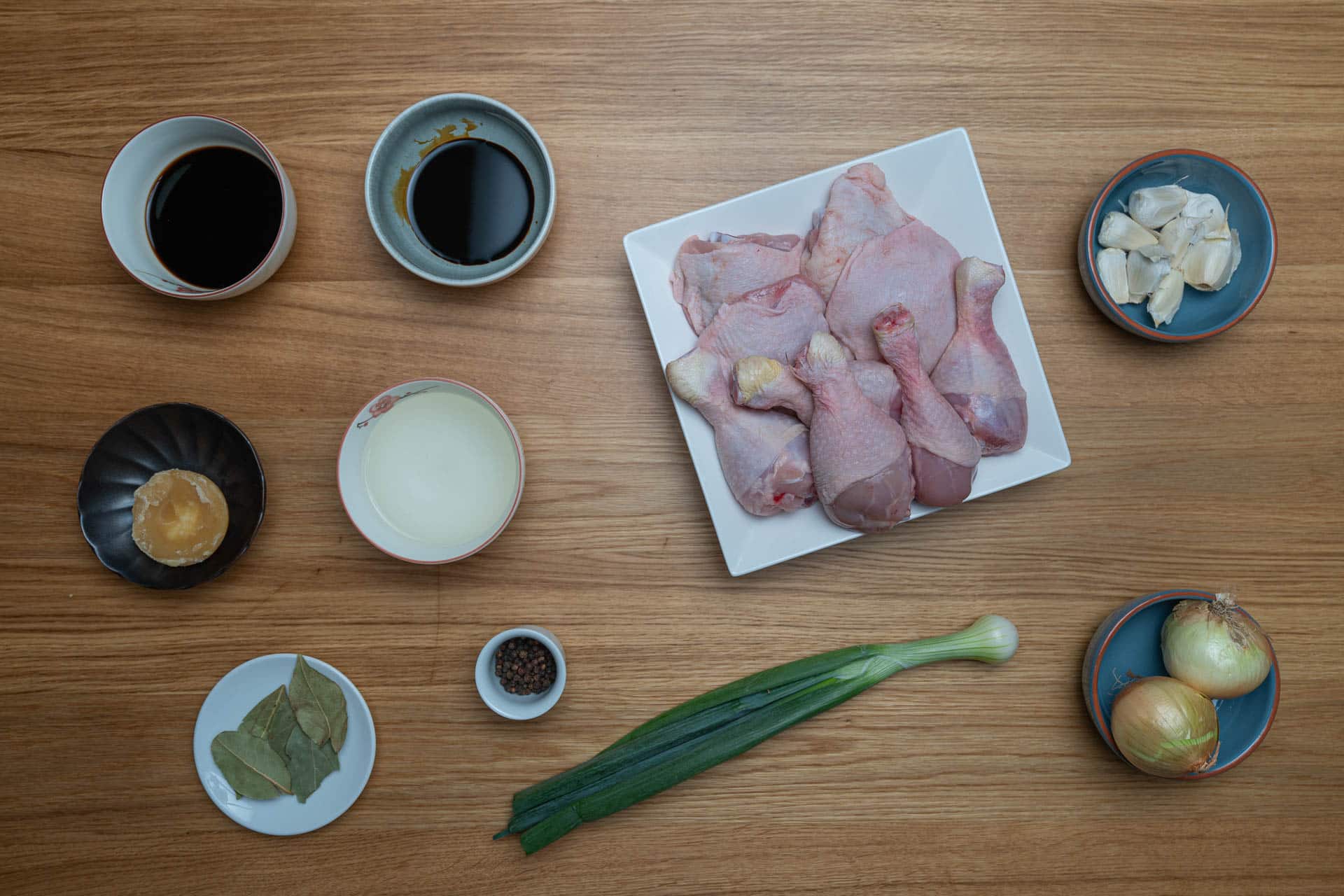 These are the ingredients for a savory Filipino Chicken Adobo Recipe cooked at home:
Chicken thighs / legs
Be sure to use fatty chicken parts such as thighs and legs which work best for an Adobo. Fat has an important role in this recipe which will dissolve into the sauce while braising. Therefore drier parts like chicken breasts or parts with less meat like wings are less appropriate.
Soy Sauce
For Adobo, it is best to use a regular soy sauce or best, the Filipino Silver Swan brand. I also like to add a small amount of dark soy sauce which adds an even richer flavor profile.
Sugar
For the sweet part, palm sugar or cane sugar works best. But if you can't find any of them, white sugar works as well.
Vinegar
If possible get yourself Filipino Cane Vinegar like the one from the Datu Puti or Silver Swan brands. Cane vinegar is milder and less pungent than normal white vinegar and is often used in the Filipino kitchen. If you can't get cane vinegar, white rice vinegar comes close as well.
Spices
Black Peppercorns and Bay leaves are adding an earthy note and flavors to the meat and sauce.
Garlic
Garlic is not skimped on in this recipe. It has a big part in the flavor profile of a chicken Adobo.
Spring Onion / Onions
Spring onion greens are often used for garnishing. In my Adobo recipe, I'm also adding white onions, which are described in more detail below.
Does chicken Adobo have onions?
Onions are not a traditional or essential ingredient in the classic Filipino adobo recipe. However, some regions and variations of Adobo may include onions. I like to add onions to my adobo recipe because it not only adds another texture next to the chicken and sauce itself but also another layer of sweetness.
Ultimately, whether you choose to include onions in your adobo is entirely up to you. This is also where the beauty of an adobo lies: in its versatility. It allows you to adjust the ingredients to suit your taste preferences. So, feel free to get creative and customize the recipe to your liking!
How to make Chicken Adobo
You'll find the full cooking instructions, so as a step-by-step video in the recipe below. That being said, these are a few key points for a successful Adobo cooked at home:
Marinate
I suggest marinating the chicken for at least 3 hours or even overnight. The meat will absorb lots of the flavors if marinating for longer. If you don't have the time to wait you can also fry the chicken directly and then add the marinade. You'll still end up with a super delicious chicken adobo! Before you fry the chicken in the pan, remove garlic and peppercorns from the chicken so they won't burn while frying.
Braising
After braising the chicken for 2x 30minutes, you should end up with a reduced and glaze sauce. While reducing, the fat from the meat will help to thicken to a glaze sauce. If at that stage the sauce is still too thin, you can reduce it even further and keep simmering for another 10-15 minutes without a closed lid.
Serving
Chicken Adobo is best eaten together with some fresh cooked jasmine rice where you can add as much of the savory sauce depending on your liking. For sure you can also combine Adobo with some other side dishes.
Here are some other Lunch / Dinner Recipes worth trying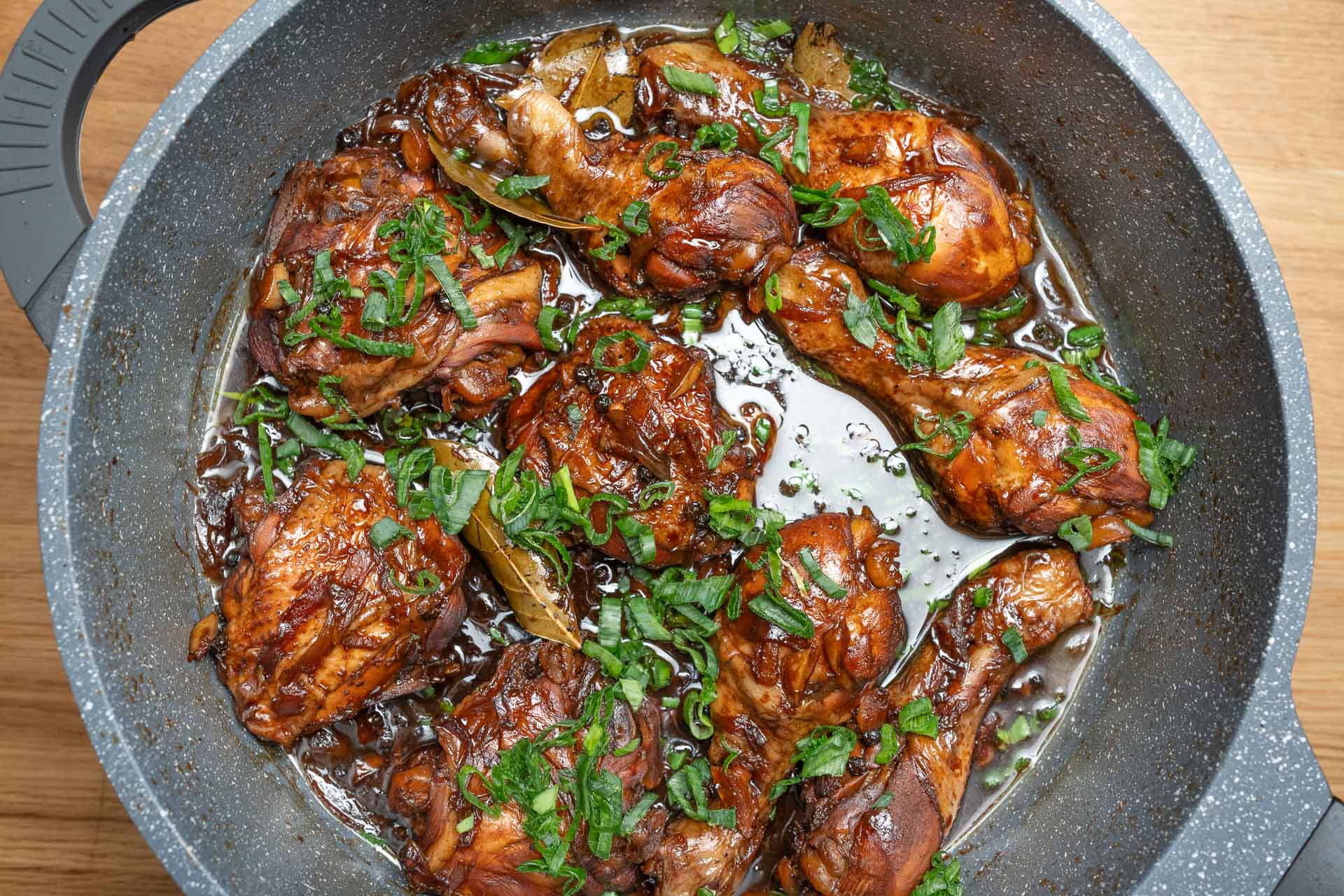 Filipino Chicken Adobo
Chicken Adobo, probably the best and most known Filipino dish. A super delicious and savory mix between acid, sugar, salt, and fat.
Instructions
Preparing & Marinate
Peel the garlic cloves and crushing the cloves with the flat side of the kitchen knife. Give the garlic a rough chop and put aside for later.

finely cut and chop the palm sugar "block". Palm sugar often comes in form of hard blocks or hemispheres.

Put and layer the chicken thighs & chicken legs in a rather flat casserole dish. This way the chicken will be covered by marinade later. Another option is to put the chicken in a thick plastig bag and marinate it this way, so the chicken is surrounded by marinade.

8 pcs chicken thighs / chicken legs

add soy sauce, dark soy sauce, sugar, garlic, bay leaves, black pepper & peppercorns so as the cane vinegar and mix together well with your hands.

80 ml filipino soy sauce,

20 ml dark soy sauce,

4-5 bay leaves,

1 tsp ground black pepper,

1 tbsp black peppercorns,

130 ml cane vinegar

cover the casserole dish with some foil or a lid and marinate the chicken for at least 3 hours or overnight in the fridge. If you don't have the time to wait, you can also mix together the marinade / sauce in a seperate bowl and directly start frying the chicken.
Cooking the Chicken Adobo
Take the chicken out of the marinade. Remove garlic and peppercorns from the chicken thighs/legs and dry them a little with some kitchen paper.

IMPORTANT: Keep the marinade for later as this will be the sauce.

Peel the onions and cut in rough slices.

Use a large frying pan and set to medium heat. Add some oil and fry the chicken (skin side down) for about 5 minutes until they turn a little crispy.

Take the chicken out of the pan again and add the white onions. Fry them until soft.

When the onions are soft, add the chicken again and cover with the onions. Pour over the marinade and also add the water just enough until the chicken is almost entirely covered liquid.

bring to boil, reduce the heat and simmer for 30 minutes with the lid closed.

after 30 minutes, carefully turn over the chicken and simmer for another 30 minutes.

You should end up with a reduced and glaze sauce now. If the sauce is still too thin and if you want a slightly thicker and less sauce, you can keep it simmer for another 10 minutes without a lid.

turn off the heat and put the pan aside. Cut some spring onion greens in fine slices and garnish the meat with it.

Enjoy your chicken adobo with some fresh cooked jasmin rice and don't forget to add lots of your greasy and savory sauce.
Nutrition
Serving:
300
g
|
Calories:
750
kcal
Did you make this recipe?
Please let me know how it turned out for you! Leave a comment below and tag @flavorthoughts on Instagram and hashtag it #flavorthoughts.