This Middle Eastern-style oven roasted eggplant dish is reminiscent of a Mutabbal, an Arabic Eggplant dip. Where Mutabbal is more a creamy spread and mix of roasted eggplant, tahini, and yogurt, this recipe is a refined version of it with roasted chickpeas and pistachios.
Matubbal, or this extended version of mine of roasted eggplant is more than a super healthy dish with lots of nutrients and vitamins. It is a Middle Eastern dish, kind of a salad-like dip, that is best enjoyed with some fresh bread, pita bread, or crackers. It's an aromatic dish with crispy, soft, fresh, spicy, and sweet elements that perfectly represent the flavors of the Middle East. Besides that, it is an eye-catcher that will not only impress your next guests with its appearance but also with its taste!
This oven roasted eggplant dish or the traditional Mutabbal is a lovely Middle Eastern dish that serves as a Mezze (small dishes served as appetizers) or perfect as a side dish of any kind.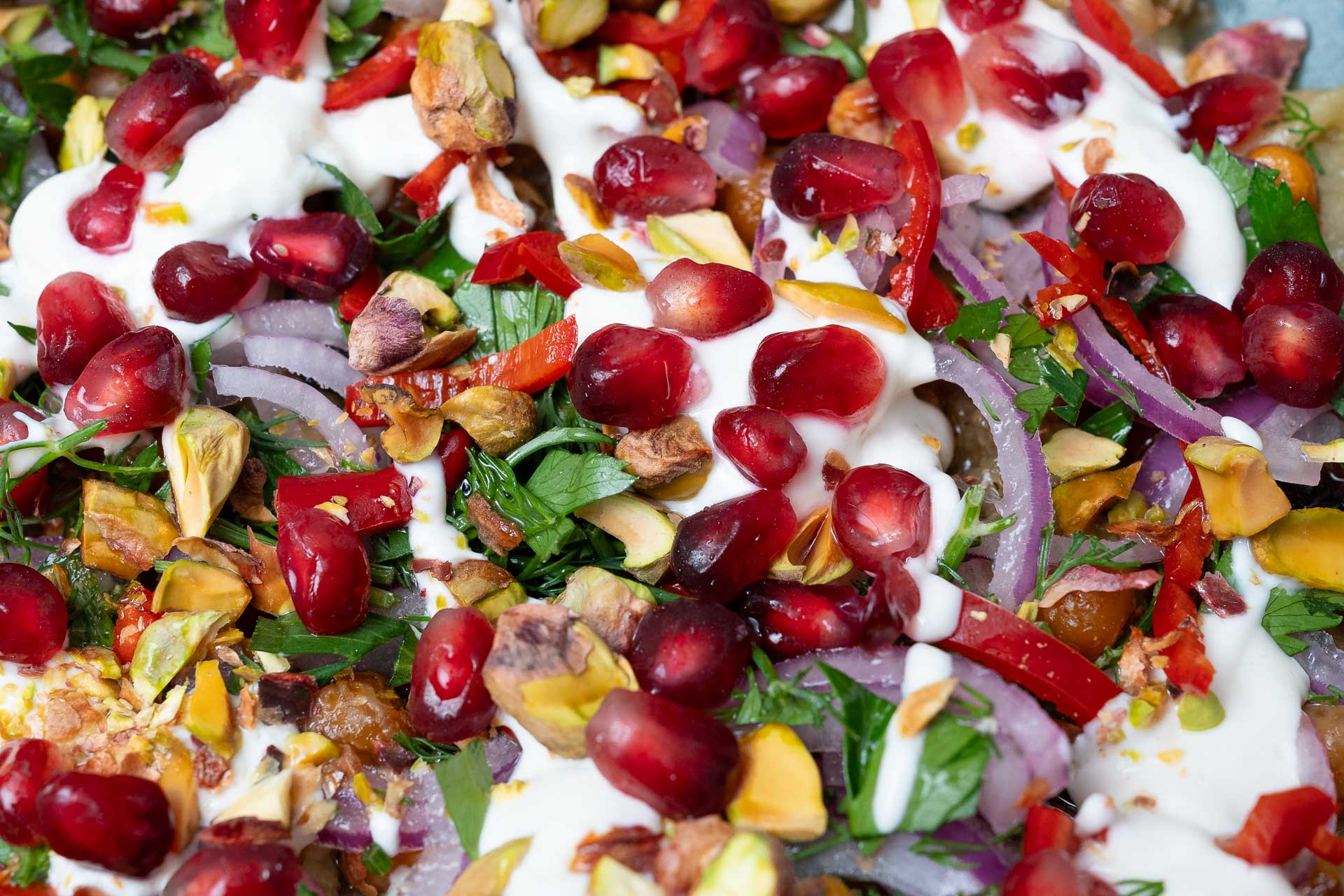 What is Mutabbal made of?
Mutabbal is usually made of roasted/grilled eggplants, tahini paste, olive oil, lemon juice, salt, and herbs. Optionally there is also yogurt and other spices like chili or cumin powder used for a Mutabbal. This is also what makes it different from a Baba Ganoush. Where Mutabbal uses Tahini, different spices, and sometimes yogurt, Baba Ganoush doesn't use yogurt, and doesn't always call for tahini.
What both Baba Ganoush and Mutabbal have in common is their texture which is a smooth and creamy spread-like dip. This is also where the main difference to my version of this delicious and aromatic Middle Eastern dish comes in. I wanted to create a recipe that is still creamy and easy to spread on bread but with more components and textures. More like a salad-like dip with crunchy, soft, and fresh parts rather than a dip.
For a more traditional Mutabbal, you can just finely mash the oven roasted roasted eggplant and mix them together with the yogurt, tahini, ground garlic, and some extra olive oil. Later you can add things like pomegranate seeds, fresh herbs, and spices like sumac for garnishing.
Is there a need to salt the Eggplant before roasting?
Actually, it is not absolutely necessary to salt the Eggplant before roasting if you want more moisture to be left in the eggplant. However, salting the eggplant before roasting them in the oven helps to draw out the moisture. This will leave the eggplant with a firmer, smoother texture and more flavor.
Should the skin of eggplants be removed before roasting?
There is no need to remove the skin from the eggplant before roasting them in the oven or on a grill over direct fire/heat. The skin helps to keep the eggplant together when roasting them as a whole on a grill or over fire. Regarding this recipe, we're going to remove the skin anyway after roasting and you can easily separate the meat of the eggplant with a spoon from the skin when the eggplant is soft. The skin also contains lots of nutrients but is mostly a bit firm and chewy to eat.
By removing the skin, you eliminate any potential bitterness, so peeling it is a common practice in making Mutabbal or also my version of it.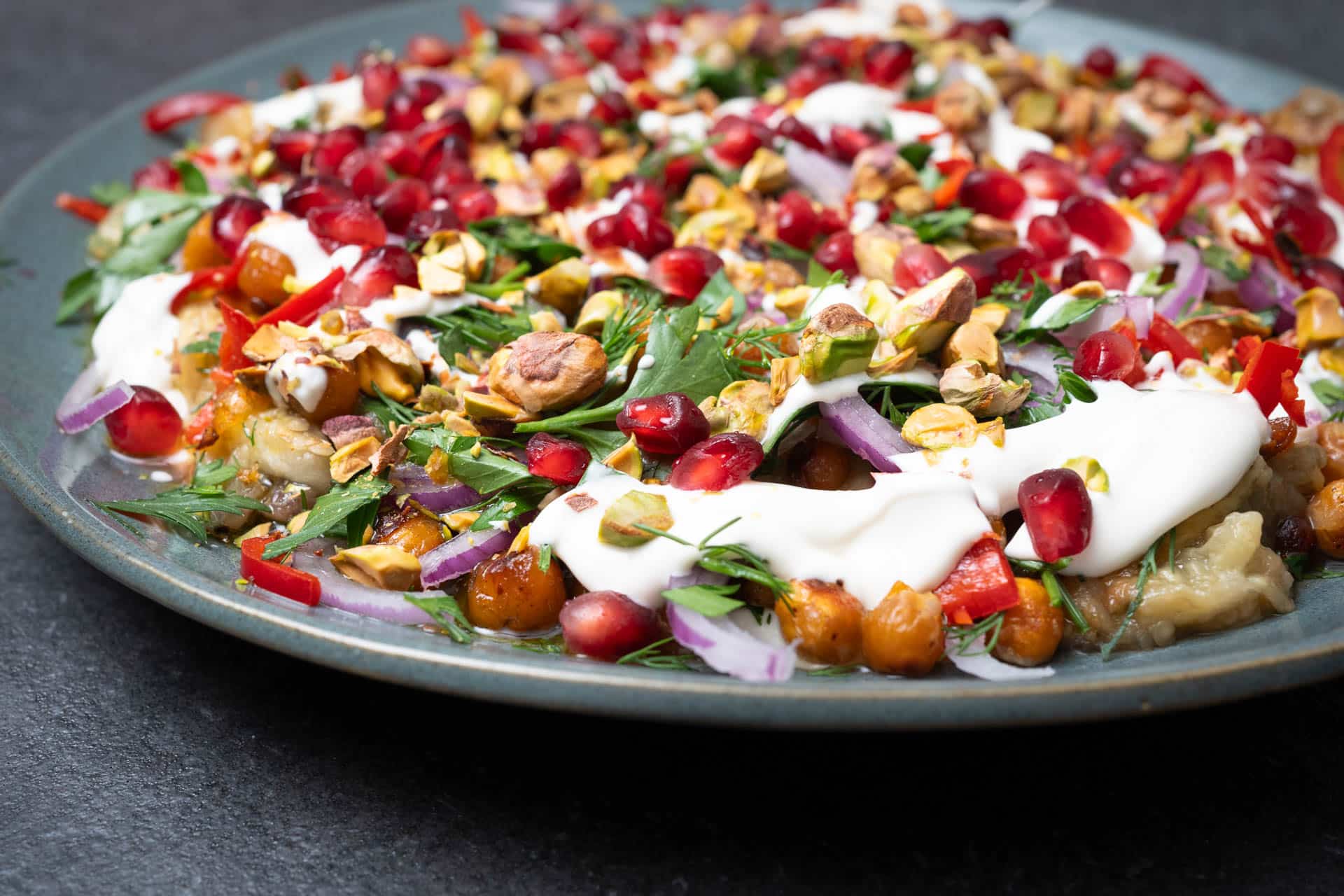 Why Mutabbal is a healthy dish
Mutabbal and my refined version of it is a pretty healthy and nutritious dish that is great for a healthy diet. Here are some reasons why Mutabbal is a rather healthy dish:
Low in Calories
Mutabbal is rather low in calories due to the use of fresh ingredients, vegetables, nuts, and spices. If you reduce the amount of olive oil and use low-fat Greek yogurt, you can even lower the calories further. However, this could affect the taste since fats are also flavor carriers.
Rich in Fiber
Eggplant, the primary ingredient in Mutabbal, is a good source of dietary fiber. Fiber is good for digestive health, cause it promotes regular bowel movements and can help prevent constipation.
Rich in Nutrients
 Eggplants are full of vitamins and minerals as well as potassium and folate. These nutrients play important roles in supporting overall health, such as boosting the immune system and maintaining bone health.
Antioxidants
 Also, Eggplants are rich in antioxidants, which help protect cells from damage caused by harmful molecules called free radicals.
Use of Tahini
The use of tahini (sesame paste) provides proteins, healthy fats, and various vitamins and minerals, including calcium, iron, and magnesium.
Isn't it great that a dish that looks and tastes that fantastic also does a great job for our health?!
The Ingredients for my Middle Eastern oven roasted Eggplant spread
As this is an extended version of a traditional Mutabbal, there are some extra ingredients involved. One of the extra ingredients that stand out is crisp and oven roasted chickpeas. Chickpeas are an important part of the Middle Eastern kitchen. By roasting and caramelizing them in the oven, we are getting a crisp, slightly spicy, and sweet element to the eggplant spread. Apart from that, let's see what other ingredients are involved:
Eggplant
The main ingredient in this recipe. Eggplants are known as rather mild and bland in taste. By roasting them, we're getting richer and sweeter flavors out of them. Especially when paired with olive oil which helps to boost the flavors of the eggplant.
Chickpeas
As mentioned above, the roasted chickpeas add a crisp and crunchy layer to the dish and they perfectly fit the Middle Eastern kitchen in terms of an ingredient.
Pistachios
Another extra ingredient for my version of Mutabbal is pistachios. As well as the chickpeas, they are an important part of Middle Eastern cuisine. Pistachios are especially high in protein and also antioxidants.
Tahini Yogurt
Greek Yogurt paired with tahini paste and garlic gets you an aromatic and creamy base for this healthy baked eggplant dish.
Pomegranate
Pomegranate seeds are one of my favorite things for garnishing any kind of salad. They're adding a super delicious, crisp, refreshing, and slightly sour taste.
Red onion
Thinly sliced red onions are great for salads. In the case of this dish, they are adding another crunchy texture with a peppery hint.
Fresh herbs
When it comes to freshness, herbs are indispensable. Together with the lemon juice and pomegranate seeds, they're lifting up the dish with fruity and aromatic notes. Some of the most common fresh herbs in Middle Eastern Cuisine are parsley, mint, or dill which work great for this dish.
Lemon
Fresh lemon juice works as the acidic "dressing" for this salad-like dip.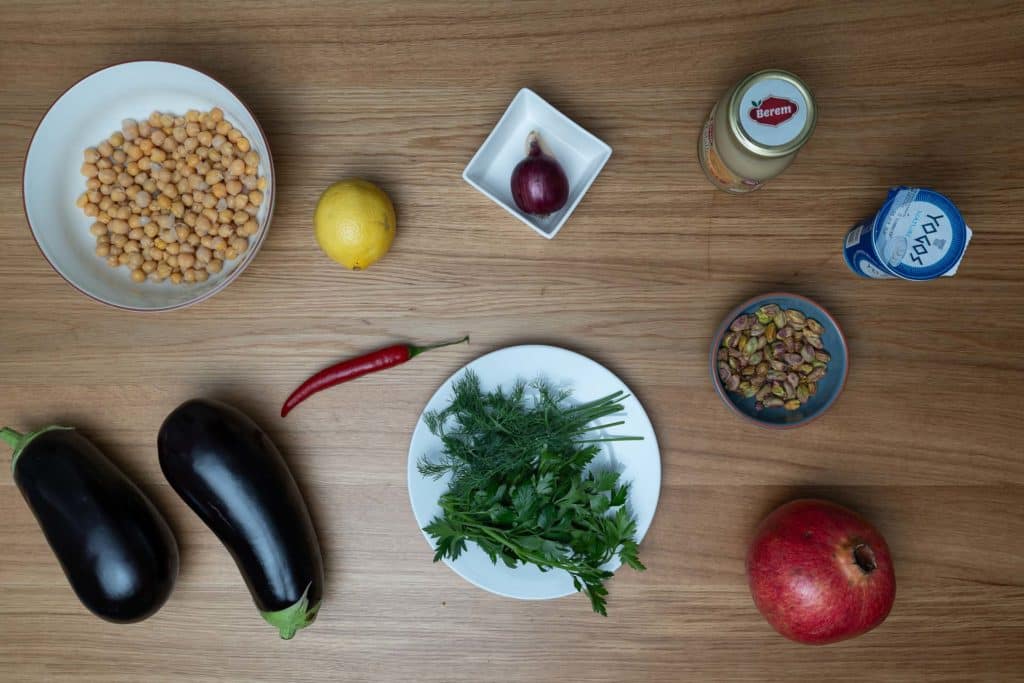 How to make my oven roasted Eggplant dish
These are the cooking directions to prepare my yummy oven baked eggplants with tahini yogurt. Images of the cooking steps and a how-to Youtube Video you'll find down below in the printable recipe.
Oven roasted eggplant & chickpeas
First, we're gonna prepare and roast the eggplant and chickpeas, as these take the longest part of the recipe. At best, you can roast both, the eggplant and chickpeas simultaneously to save some time.
Cut the eggplant lengthwise into halves or quarters. You can remove the inner/middle part of the eggplant if it is a bit mushy. This is normally only the case with older eggplants. Watch the Video on how to do that. After that, put the eggplant on a baking sheet, drizzle with some olive oil, and add a pinch of salt. Bake the Eggplant at around 200°C / 390°F for about 30 minutes or until they're soft and golden on top. When they're ready, separate the eggplant meat from the skin and give the eggplant a rough cut. The skin we don't need for this recipe.
Hint: It is to be mentioned that if you're roasting them over direct fire / or over a grill, you can roast them as a whole. Then you can cut them later to take out the meat from the eggplant.
Mix the chickpeas together with olive oil, salt, cayenne pepper, and honey in a bowl and give all a good mix. Now put them on a baking sheet with some parchment paper. Separate them a bit from each other so they're not sticking together. Now roast the chickpeas in the oven at around 220°C / 428°F for about 20 minutes. When roasting together with the eggplant, you can keep it at 200°C and roast for 30 minutes. After 20 minutes, give them a good shake on the baking sheet and roast them for another 10 minutes or so if they're not crisp yet.
How to make tahini yogurt
While roasting the eggplant and chickpeas, it's time to prepare the tahini yogurt, the base of our Mutabbal recipe.
In a small bowl, mix together the Greek yogurt with tahini paste, grated garlic, and a pinch of salt. Mix together and keep it at room temperature. This way, the yogurt will have more flavor compared when eating it cold. You can add tahini paste to your liking. For the garlic, I only use about half a clove for a 2 Person dish. As fresh garlic can be quite punchy, it doesn't need that much of it.
Preparing the Toppings
The Toppings I'm using for my version of a Mutabbal, are adding contrasty flavors and textures to the dish. You can add as many and as much of them as you like.
Peel and cut one medium red onion into thin slices.
Give the pre-peeled pistachios a rough cut. However, you can also use them as a whole.
Cut a small or medium pomegranate in half, and knock out the seeds with the help of a spatula.
Finally, half and remove the seeds of a fresh cayenne pepper. Cut it into fine slices. For the fresh herbs, just remove the stems and give the leaves a rough cut.
Assembling the Mutabbal
Time for the most fun part of the recipe.
Spread the tahini yogurt on a plate and then add the eggplant and the roasted chickpeas on top. Keep some of the yogurt for garnishing.
Add as much of your toppings according to your taste.
Lastly, sprinkle over the remaining yogurt (which you can thin a little with some water) and add the juice of half a lemon.
Enjoy this very fresh, healthy, and flavorful roasted eggplant spread together with some fresh bread or crackers.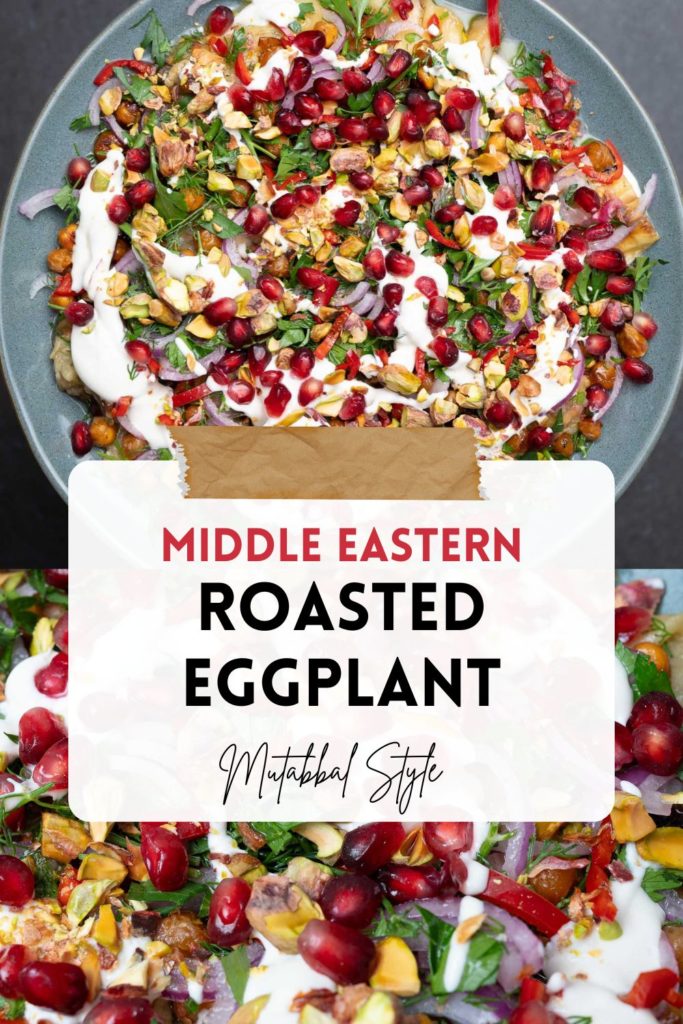 Here are some other Middle Eastern Recipes or other Appetizers you might like!
Ready for one of the best-poached eggs for breakfast? Try Cilbir – Turkish Eggs
The ultimate Avocado Toast with slow-roasted garlic
Refreshing Nectarine-Tomato Salad with Feta cheese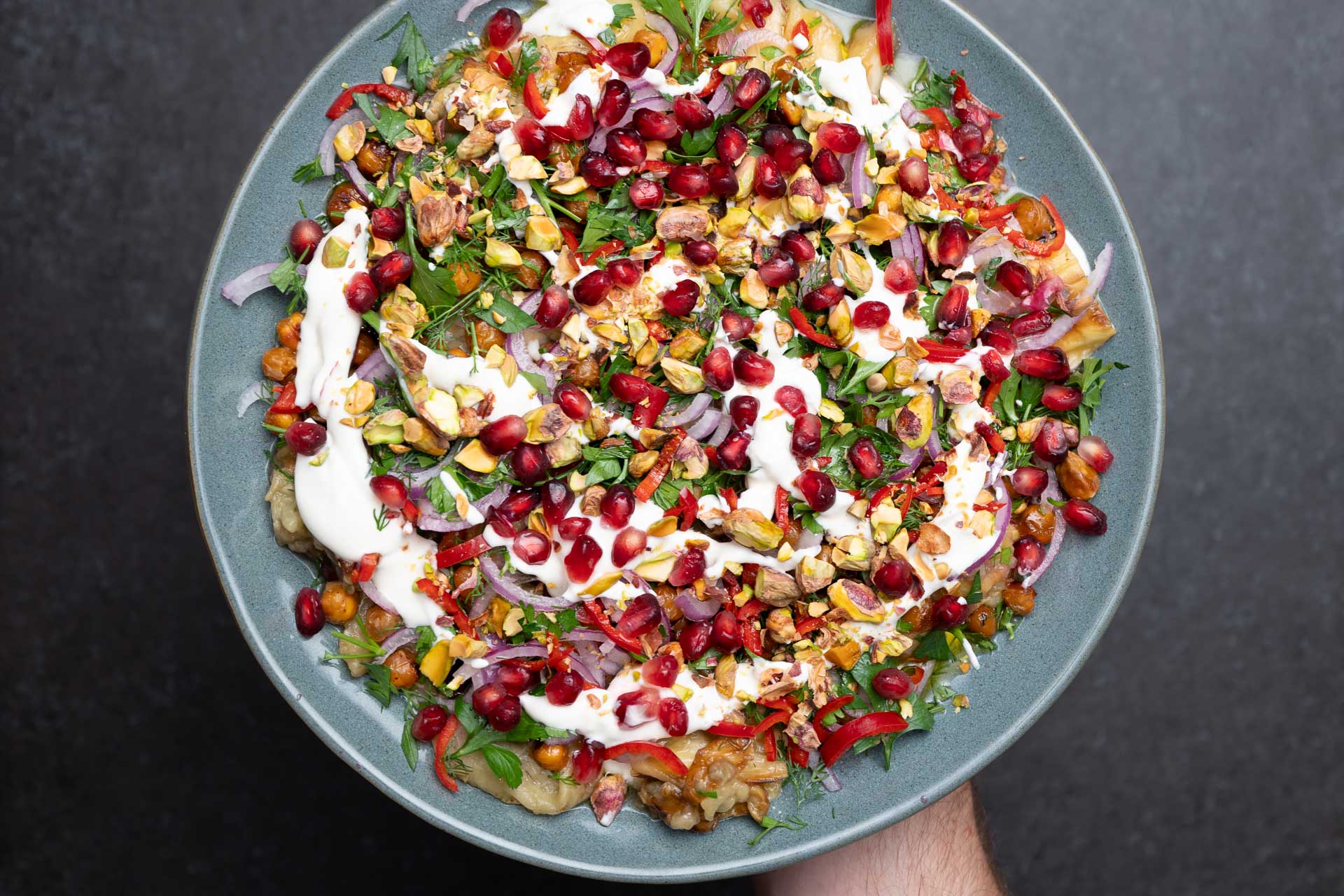 Middle Eastern Oven Roasted Eggplant - Mutabbal style
This delicious oven-roasted eggplant on yogurt is an uplifted, Mutabbal-style snack that takes you to the Middle East flavorwise.
Ingredients
400

grams

Chickpeas

180

grams

Greek Yogurt

2

large eggplants

1

small pomegranate

2

tsp

Tahini Paste

1

pinch

ceyenne pepper

½

clove

garlic

1

tbsp

honey

½

lemon

1

medium red onion

1

handful

peeled Pistachios

1

fresh cayenne chili pepper

1

handful

fresh parsley and/or dill

3

tbsp

olive oil
Instructions
Roasting Eggplant & Chickpeas
You can roast the eggplant at the same time as the chickpeas, each on a separate baking dish, to save time.

To roast the Eggplant in the oven, cut them lengthwise into quarters or halves. If you've an older Eggplant where the center is a little mushy, you just cut this part off. With fresh Eggplant this is nornmally not necessary.

As described above in the blog, you don't have to remove the skin from the eggplant before roasting. Drizzle them with some olive, add a pinch of salt and roast them at around 200°C / 390°F for about 30 minutes or until soft and golden brown on the top.

When they're ready, take them onto your cutting board and with help of a spoon, remove the meat of the eggplant from the skin. You could bake the skin itself a little longer to get some "chips" or use them for something else. But for this recipe, we don't need the skin. Give the Eggplant a rough chop and put by side for later.

For the Chickpeas, put them in a medium bowl and add olive oil, cayenne pepper, honey and salt. Give it a good mix and distribute on some perchmant paper on a separate baking sheet. Be sure the chickpeas have some space between each other. Bake them at around 220°C / 428°F for about 20 minutes. If you bake them together with the eggplant, you can keep it at 200°C and just roast them a little longer if necessary.

400 grams Chickpeas,

1 pinch ceyenne pepper,

3 tbsp olive oil,

1 tbsp honey

After 20 minutes, give them a shake in the baking sheet and if not crisp enough yet, roast them for another 10 minutes or so.
Tahini Yogurt
For the tahini yogurt, in a small bowl, mix the greek yogurt together with the tahini paste, grated garlic and pinch of salt. Put aside at room temperature for later

180 grams Greek Yogurt,

½ clove garlic,

2 tsp Tahini Paste
Prepare the Toppings
Cut the red onion into fine slices

For the Pistachios, just give them a rough cut

1 handful peeled Pistachios

The pomegranate you can cut in half and then knock out the seeds with help of a spatula, the rest of the seeds you can remove with your fingers.

Remove the stems of the herbs and roughly chop the leaves.

1 handful fresh parsley and/or dill

cut the cayenne chili in half, remove the seeds and cut it into fine slices.

1 fresh cayenne chili pepper
Assembling
Assemble this delicious middle eastern Mutabal style Eggplant dish in the following order:

spread the yogurt onto a plate and keep some of the yogurt for later. Distribute the Eggplant on top and then add the crispy chickpeas. Then add onions, herbs and the chili. Now add the remaining yogurt which you can thin a little with some water. Finally add the pomegranate seeds on top and last but not least, add the fresh lemon juice.

Eat together with some fresh bread and enjoy a dish full of middle eastern flavors.
Nutrition
Serving:
250
g
|
Calories:
520
kcal
Did you make this oven roasted eggplant recipe?
Please let me know how it turned out for you! Leave a comment below and tag @flavorthoughts on Instagram and hashtag it #flavorthoughts.