This Nectarine Salad offers a lovely combination of flavors and goes especially well as a light and fresh summer salad. If you haven't tried nectarines in salads yet, then now is the time!
By slow-roasting nectarine slices in the oven, in the pan, or on the grill, we get a soft, sweet, and fruity element together with meaty and fresh tomatoes. A nectarine salad does not only look super good by offering a colorful presentation, but it's a great flavorful contrast and quite a healthy ingredient to any kind of summer salad. As mentioned above, I like to combine nectarines with tomatoes. They're both rather sweet ingredients, therefore for my nectarine salad recipe, I'm adding other, rather tangy and peppery ingredients to complement the sweetness.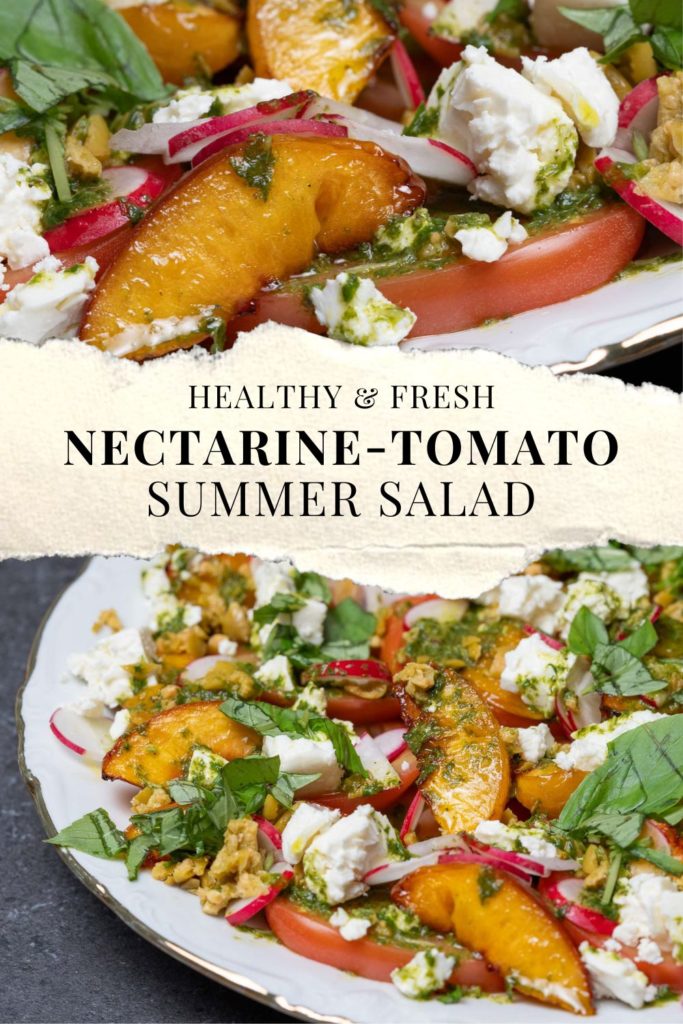 Half the nectarine with a knife and keep the tip of the blade in contact with the stone of the fruit. Once done, take the stone out with your fingers, or if he doesn't come out, slice it out with your knife. Now you can cut the nectarine in medium slices, approximately cut each half into 3-4 pieces. By the way, you don't need to peel the nectarines. Their skin together with the whole fruit is full of dietary fibers and vitamins.
What is a good substitute for nectarines in a salad?
If you can't get any nectarines, you can easily go with peaches or even apricots. Especially the peaches will be quite similar in color, look, and taste. Some other great fruits for summer salads would be plums, strawberries, watermelons, or figs.
Ingredients you need for my tomato nectarine salad
These are the ingredients I used for this nectarine salad. Although, you can get creative and combine other kinds of fruits, vegetables, or dressings. However, this is a combination of ingredients I really like and which complement each other in terms of flavors and textures.
Tomato
Tomatoes are the base of this salad. I like to use a meaty kind of tomato like beef tomatoes with less juice. You can also use normal vine tomatoes or other kind of tomatoes.
Nectarine
As the title already suggests, nectarine is the star of this recipe. I like to roast the nectarine slices in the oven or in the pan to get them soft and caramelize their sugars. The nectarines will taste even sweeter and they offer a great contrast when still slightly warm compared to the other cold ingredients.
Feta Cheese
In combination with the main two, rather sweet ingredients above, feta cheese adds a tangy and salty component to the nectarine salad.
Olives
Same as the feta cheese, chopped olives add another layer of fruity, tangy, and umami tastes.
Radish
Small red radishes cut in thin slices offer a crisp, peppery, and slightly bitter component. I suggest not using too many of them as they can be pretty punchy. If you don't like the taste of them, you can also leave them out and add another crisp layer with some nuts for example.
Basil Dressing
As being a summer salad, I like to use a light but fruity dressing like a vinaigrette. I used olive oil together with fresh lemon juice for the acid part. Together with fresh basil, you'll end up with a tasty and super fruity summer dressing.
Still in summer vibes? Try these two delicious recipes perfect for summertime!
Light and slightly spicy Summer Pasta
A nutritious and perfect breakfast for the warmer months: Turkish Eggs (Cilibir)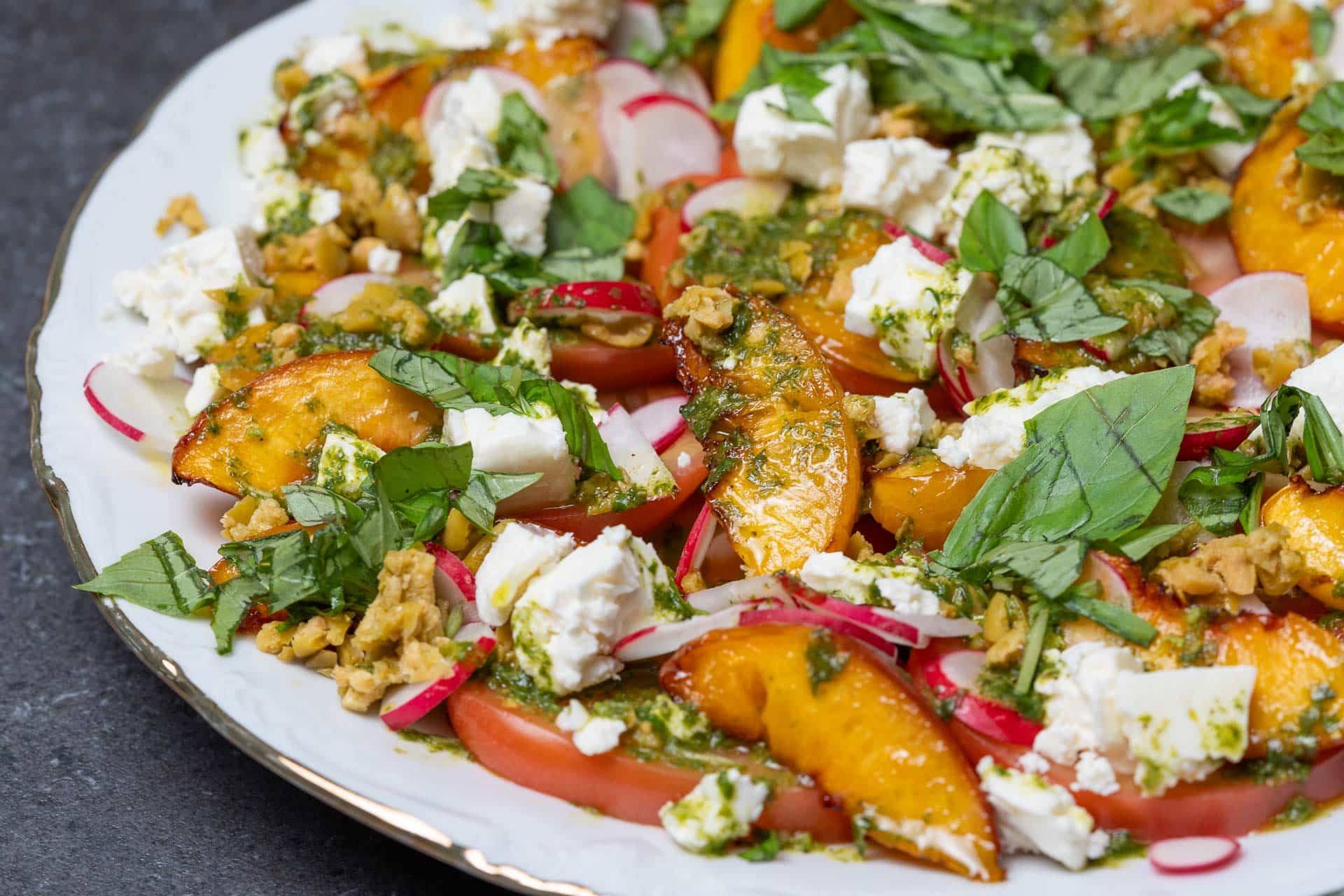 Nectarine Salad with Tomatoes, Feta and Basil Dressing
Fresh and delicious roasted nectarine salad with tomatoes, tangy feta cheese, peppery radish and a light and fruity basil dressing
Equipment
1 large plate

for serving
Ingredients
400

grams

Beef Tomato

or vine tomatoes

2-3

Nectarines

40

grams

Feta cheese

1

handful

radish

1

handful

green or black olives
Basil Dressing
1

dl

olive oil

½

lemon

20

grams

fresh basil

1

pinch

salt

1

pinch

pepper
Instructions
Roasting the Nectarines
Half and stone the nectarines and cut in medium slices. Marinade them with some olive oil, put them on a baking sheet with parchment paper and roast them for about 20-30 minutes at 200℃ or until brownish- and soft. Let them cool down for about 10 minutes before serving the salad.

Flip them halfway through the roasting time. You can also roast the nectarines on the grill or a pan if you will.
Making the Basil Dressing
For the basil dressing, mix olive oil, fresh lemon juice, pepper, salt and fresh basil in a glass and puree with a blender. Keep some of the basil for garnishing.
Making the Nectarine_Tomato Salad
cut a handful of small red radish into thin slices

stone a handful of green or black olives and give them a rough chop

Cut the tomatoes into 0.5-1cm thick slices and layer them on a large plate. Top up with the nectarine slices, radish slices and chopped olives. Crumble the feta cheese on top.

Add the dressing on top and garnish with some chopped fresh basil
Did you make this nectarine salad recipe?
Please let me know how it turned out for you! Leave a comment below and tag @flavorthoughts on Instagram and hashtag it #flavorthoughts.