Homemade Chili Oil is by far one of my favorite things to put on almost any dish! And as more than half of our weeknight dinners are usually Asian-oriented, this oil is used very often in our kitchen. The Chinese Chili oil or Sichuan chili oil to be precise, is the version of homemade chili oil I'm really taken with. Chinese chili oil is by far not comparable with an Italian style of chili oil you may have at home to put on your Pizza.
It's a flavor-packed, spicy-sweet, and much more complex oil. A super delicious Chinese chili oil recipe that gives you the Umami tastes you're looking for!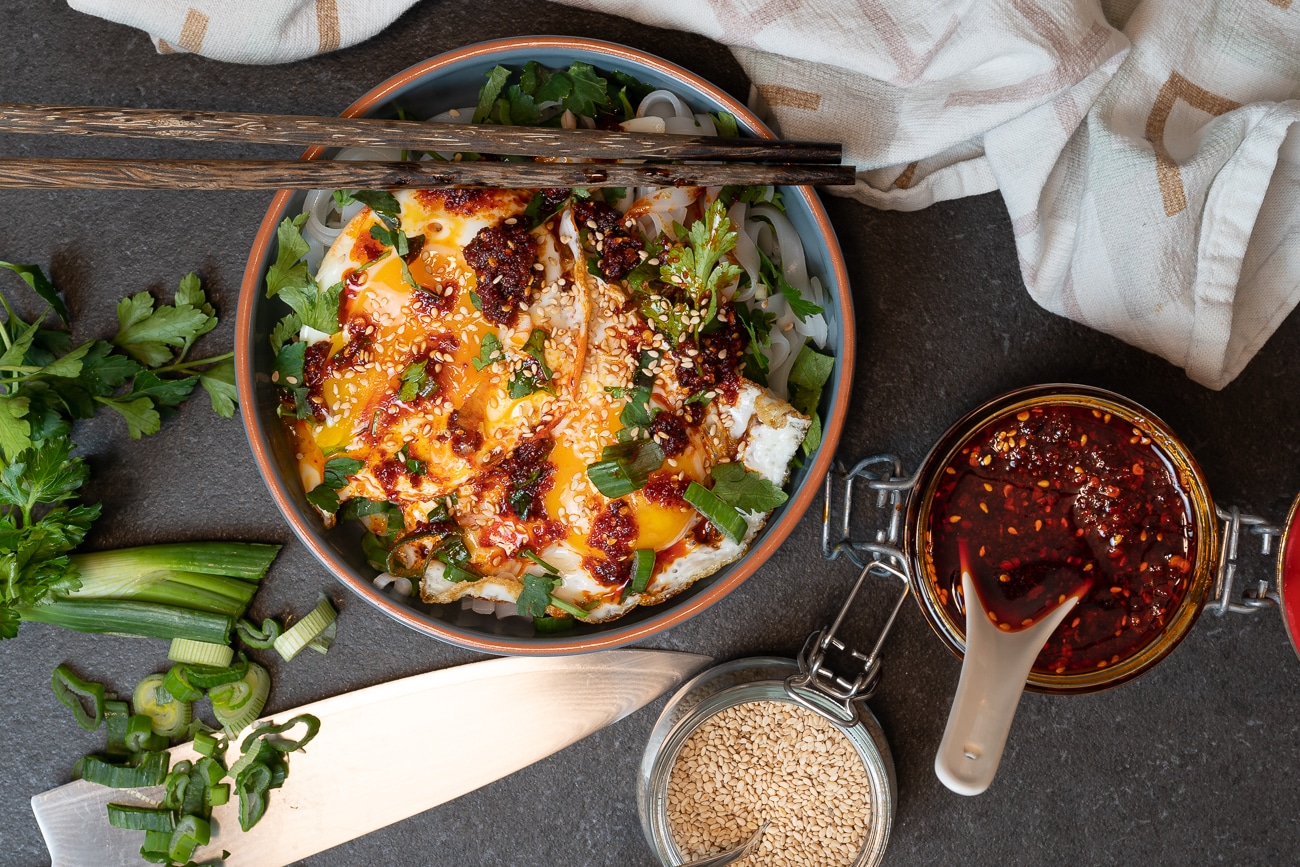 The use of this Chinese condiment
A great Sichuan chili offers tons of flavors and a good pungency, but at the same time, it is subtle and not intrusive.
It enhances the flavor of a dish rather than suppressing it.
I first came in contact with Chinese chili oil a few years ago while traveling through China for 3 months. It didn't last long until I fell in love with the flavorful and authentic Sichuan chili oil and its versatile use.
In China, you'll find some chili oil together with black vinegar on almost every restaurant table. You use it for breakfast together with dumplings as well as on top of noodles.
What Chili Oil do Chinese Restaurants use?
If you ever went to a Chinese restaurant, there is a big chance you already had a jar of homemade chili oil on your table. In China, Chinese chili oil and dark rice vinegar are condiments like salt & pepper in our Western countries, almost always to be found as a condiment on a restaurant table. It is quite common, that every Chinese restaurant has its own homemade chili oil. The most common Chinese chili oil recipe is a Sichuan chili oil with a numbing taste due to the Sichuan pepper. In my home made chili oil recipe below, you learn how to make Chinese chili oil like the one in an authentic Chinese Restaurant.
Making authentic homemade chili oil – Sichuan Style
The secret for great chili oil is to first infuse the oil with different kinds of aromatics and depending on the type of chili oil like Sichuan, Cantonese, or other kinds of Chinese chili oil, you're adding different kinds of spices to the oil. Lots of Chinese people also refrain from additional spices and just use oil and chili flakes as the only ingredients.
I'm sure such simpler chili oil recipes with quality ingredients will be great on their own! I'm of the opinion, however, that the additional aromatics raise the chili oil to an even higher level. In this recipe, you will learn how to make such an authentic Chinese chili oil recipe at home and which ingredients you need to do that.
Ingredients: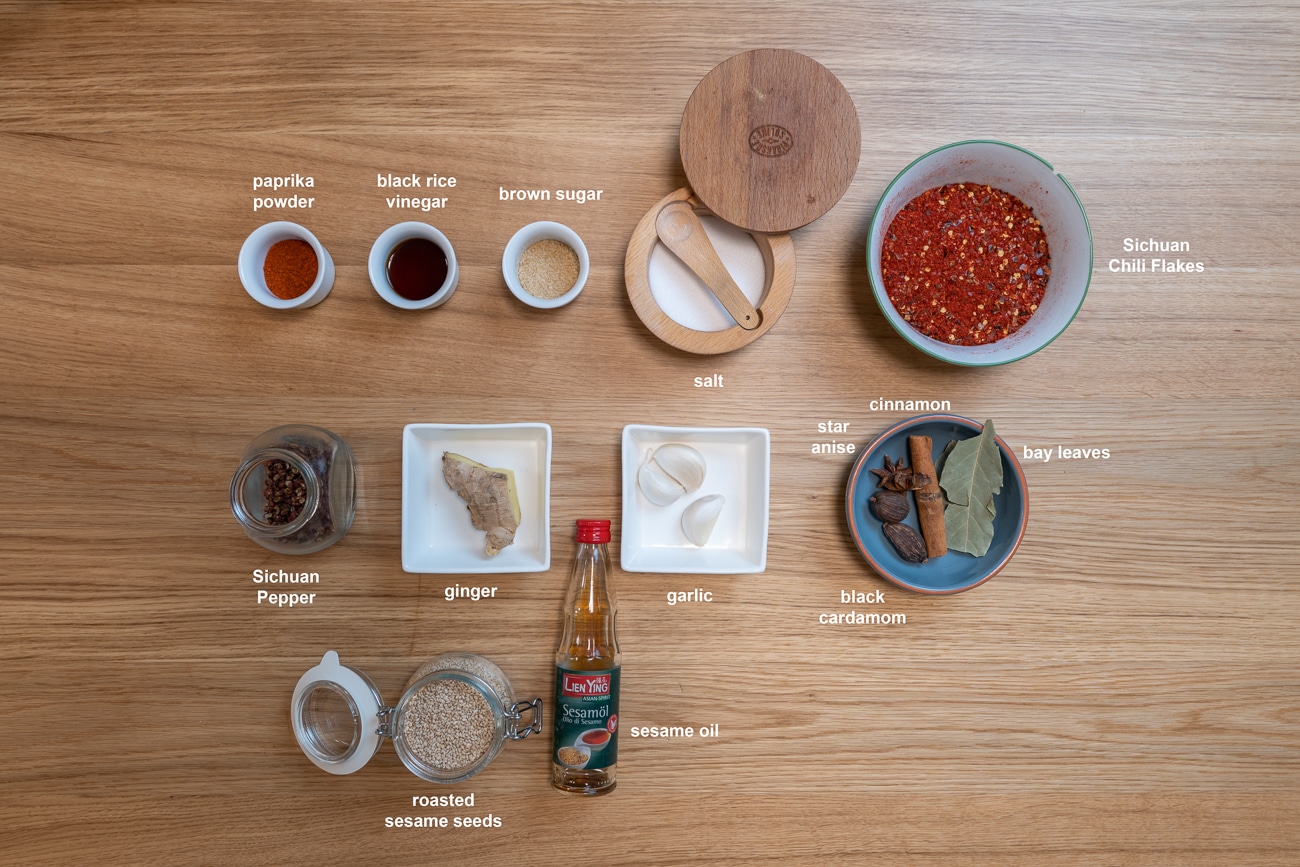 In the image above you'll see all ingredients (except the oil itself) you need for my flavor-packed chili oil. All these ingredients are kind of a base for Sichuan chili oil. But from here you can go even further with aromatics and create your own homemade chili oil according to your taste.
Chili Flakes
Chinese chili flakes are one of the two main ingredients. So you need to be sure to not only get quality ones but also the right kind of chili flakes. In this case, Sichuan chili flakes if possible and available. If you're looking for milder chili oil, you could also get Korean chili flakes which are on the sweeter side and not as spicy as their Sichuan counterpart.
Aromatics / Spices
You should at least use ginger, black cardamom, star anise, bay leaves and cinnamon as your aromatics. And most important, don't forget to add Sichuan pepper for a Sichuan-style home made chili oil.
Salty / Sweet and Sour
Salt, brown sugar, and black rice vinegar bring everything in balance and offer the whole palate of flavors and tastes.
Paprika powder
This is more for an even deeper red color than for the taste.
Oil
Be sure to use a neutral oil like rapeseed (canola) oil, vegetable, or peanut oil. This helps to keep the aromatics and flavors of the chilis in the foreground. If you're looking for the real deal and if you can dig it up, you can go for Chinese Caiziyou. This is a Chinese roasted rapeseed oil that is commonly used in the Sichuan kitchen.
Additional seasoning
According to your taste, you can further spice the chili oil with pre-roasted sesame seeds and sesame oil like we are doing in this recipe.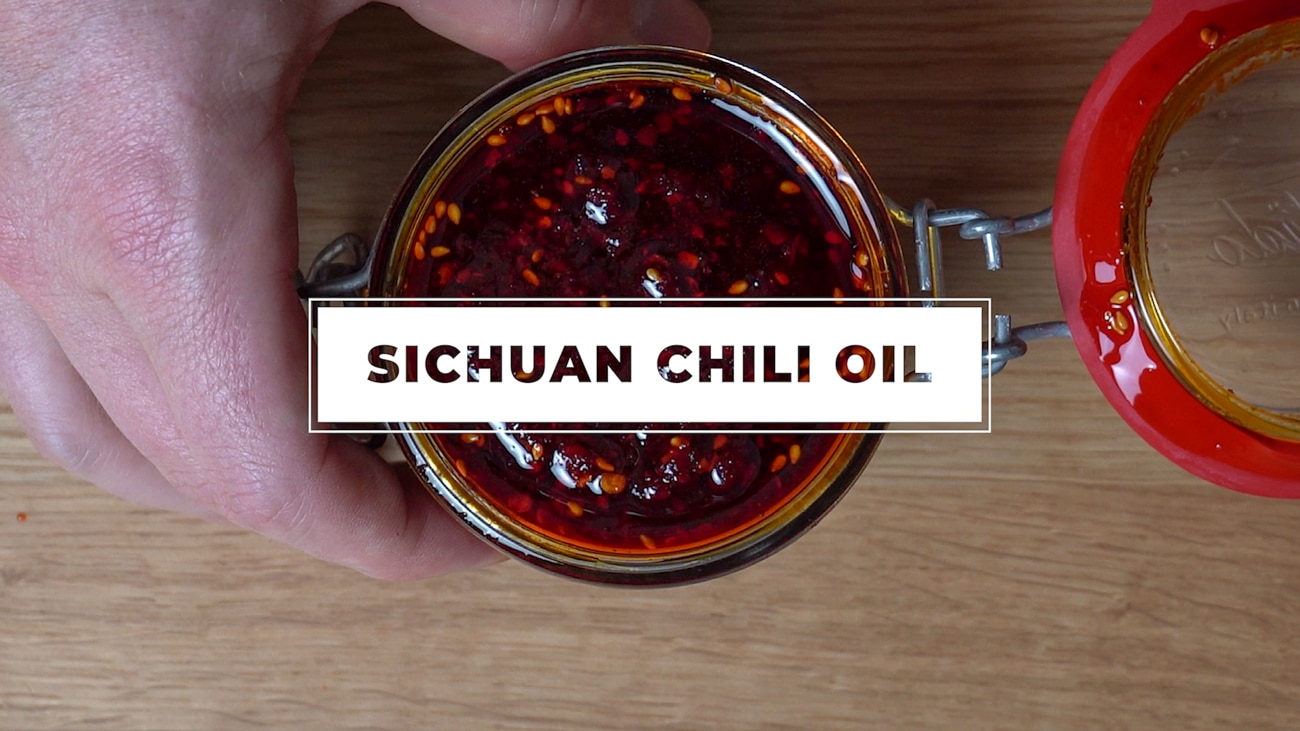 How to make Chinese Chili Oil
As in my Video below, I'm covering the preparation of home made chili oil in the following 5 steps:
Preparation of the chili-mix
In this step, you're mixing salt, sugar, paprika, and vinegar into the chili flakes. This way the chili flakes can soak up a bit and are less likely to burn while pouring over the hot oil.
Preparation of the aromatics
Crush the spices and cut ginger and garlic into slices. This will help to get the flavors out of them into the oil during the infusion.
Infusion
Bring oil and spices to medium heat at around 80° C / 176° F. You could also go higher but be careful you don't burn the garlic and ginger. I've had the best experiences lowering the heat back to about 60°-70° Celsius / 140°- 160° F and infusing the oil for about 30 minutes at these temperatures. This is more on the lower end of the temperature spectrum for infusion. But it worked for me to be on the safe side with the garlic and ginger. 
Storage
In this step, you can sterilize your preferred airtight glasses or jars if not already done. You can sterilize your glasses by pouring over boiling water and letting them sit for a few minutes. Be sure to use clean utensils after that and not to touch the glass on the inside again.
This way you can keep your Sichuan chili oil for weeks or even months. It is best to store your oil in the fridge. But I must say I also never had problems keeping the oil at room temperature. As my chili oil never lasted that long until it could get bad.
Seasoning
Add sesame seeds and sesame oil here. You could add even more additional spices and flavors to your chili oil. As you already have a super tasty base of oil by now, you can get pretty creative here.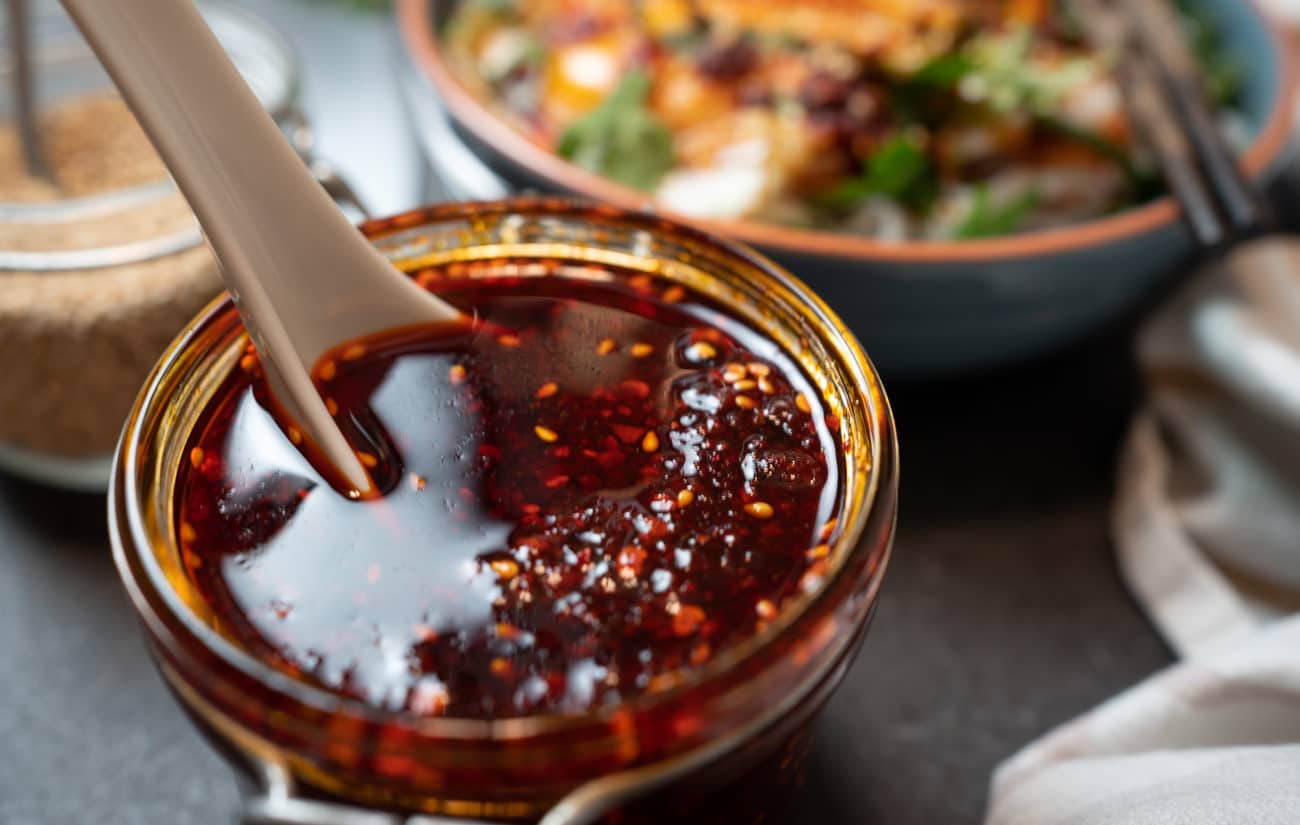 Homemade Chinese Chili Oil Recipe
Spicy, savoury and addictive Chinese chili oil (Sichuan Style) to spice up your meals.
Instructions
Prepare Chili Flakes
Add the Chili Flakes in a medium heatproof bowl

40 grams Sichuan Chili Flakes

add salt, sugar, paprika powder and black rice vinegar and mix together. But the bowl aside and let the flakes soak in a bit.

1 tsp salt,

2 tsp brown sugar,

1-2 tbsp black rice vinegar,

1 tsp sweet paprika powder
Prepare Aromatics
Crack open the spices with your knife. This way the flavors can be easier absorbed by the oil.

Cut garlic and ginger into slices. You don't have to peel the ginger here.
Infusion of the oil
add rapeseed oil or other natural oil to a medium pot. Be sure there is still enough space to the rim of the pot.

add all aromatics and mix into the oil

3 cloves garlic,

2 pieces star anis,

3 tsp Sichuan Pepper,

2 pieces bayleaf,

1 piece cinnamon,

2 nuggets fresh ginger,

2 pieces black cardamom

heat the oil up to 80° Celsius / 176° Fahrenheit

lower the temperature down to 60° Celsius / 140° Fahrenheit and infuse the oil for about 30 minutes or longer. When the garlic and ginger are getting too dark, take them out or stop the infusion process.

The aromatics should be slightly sizzling in the oil.

Put the hot oil in 3 steps through a metal strainer into the chili flakes. Wait a few minutes after each pour.

season the oil with roasted sesame seeds and sesame oil. You can also add more spices according to your lilking here.

2 tsp sesame oil,

2-3 tsp white sesame seeds

Let the oil cool down and fill it into sterilized, airtight glasses or jars which you best store in the fridge afterward.
Notes
This recipe is for about one medium jar (or even a bit more) like in the images above. If you like a thinner chili oil you can also just add more oil in the infusion process. 
Nutrition
Serving:
1
7g
|
Calories:
82
kcal
Did you make this recipe?
Please let me know how it turned out for you! Leave a comment below and tag @flavorthoughts on Instagram and hashtag it #flavorthoughts.