In this recipe, you learn how to make an authentic Italian Mortadella Pistachio Sandwich with Burrata. This hearty Italian Mortadella Panini is both, creamy and pretty delicious.
The first Italian food you might come in contact with when traveling to Italy might be the Italian Panini, which stands for sandwich. You'll find delicious Italian panini at gas stations, coffee shops, or street stands. Paninis make a great quick snack during the day as they're affordable, simple, and easy to eat. As a huge fan of Italian cuisine, I'm always looking forward to a lusciously filled panini full of Italian delicacies. What I love about Paninis is the fact that they contain just a few, amazing quality ingredients.  This Mortadella pistachio sandwich is no exception!
What I'm really enthusiastic about is getting inspired and recreating national recipes, and national cuisine in the country of origin. In this case, I created this Italian Mortadella Pistachio Sandwich in Tuscany, using some of the best local and fresh ingredients I could find.
To be clear, this sandwich is not the ideal snack for someone on a strict diet. This snack is rather heavy due to the Mortadella, Burrata, and ricotta cream. However, if you're looking for a flavorful and hearty panini that could also be eaten as a full lunch, this Italian panini is for you. If you're looking for a lighter and healthier alternative, also check out these Sandwiches:
What is Mortadella made of?
Mortadella is made of Italian cured pork, with a portion of about 60% lean pork and 40% of cheek-fat. The best and most famous Mortadella is the Mortadella Bologna IGP, only containing pork and often seasoned with peppercorns or pistachios. Cheaper Mortadella sausages also often contain other kinds of meat. Due to its fat content and fragrant flavors, Mortadella became indispensable in Italian charcuterie, often eaten in Panini Sandwiches like this recipe, or on Appetizer plates.
What to put in a Mortadella Sandwich?
In Italy, for a Mortadella Sandwich, the cold cuts are often combined with fresh and creamy burrata or buffalo mozzarella. Other great fitting ingredients are fresh parts like sliced tomatoes or arugula. As a base or sauce you can either use a rather heavy pistachio cream I'm using in this recipe, a pesto genovese or pistachio pesto, or even just a little olive oil to make a lighter panini.
Is Mortadella better hot or cold?
Mortadella is commonly eater raw and cold in paninis or as an appetizer on a charcuterie plate. However, compared to prosciutto crudo (dry-cured ham), prosciutto cotto or Mortadella can be cooked or fried to be eaten hot. This way, the sausage will release its fats, the Mortadella is turning crispy and the fragrant flavors come to the fore.
Ingredients for my Mortadella Panini
These are the ingredients you need for my Mortadella Pistachio Sandwich:
Mortadella
The main protagonist in this recipe. Get yourself fresh cuts of a great quality Italian Mortadella.
Ricotta
Ricotta is called a whey cheese rather than being a "real" cheese, a dairy by-product. Ricotta is like a creamy, smooth, and mild cheese spread which can be used for both, salty and sweet recipes. If you're looking for a lighter sandwich, you can skip the ricotta and grind together a lighter pesto made from the pistachios, olive oil, and some pecorino or parmesan cheese for example.
Pistachios
If you can, save yourself the work and get pre-shelled pistachios. I ground the pistachios right away, but if you have the time, you can peel the pistachios which leads to a stronger nut flavor and a greener paste.
Burrata
Burrata is a special form of Mozzarella, made out of Mozzarella cheese and cream, with a super creamy and milky inner part.
Schiacciata Bread
Schiacciata is an Italian bread from Tuscany and is often used for panini. Compared to Focaccia Bread, Schiacciata bread is thinner and has a more crisp and cracker-like crust with a still airy and soft inner. This makes Schiacciata a great choice for Italian Panini. As the bread is thinner, the focus remains on the ingredients inside the panini.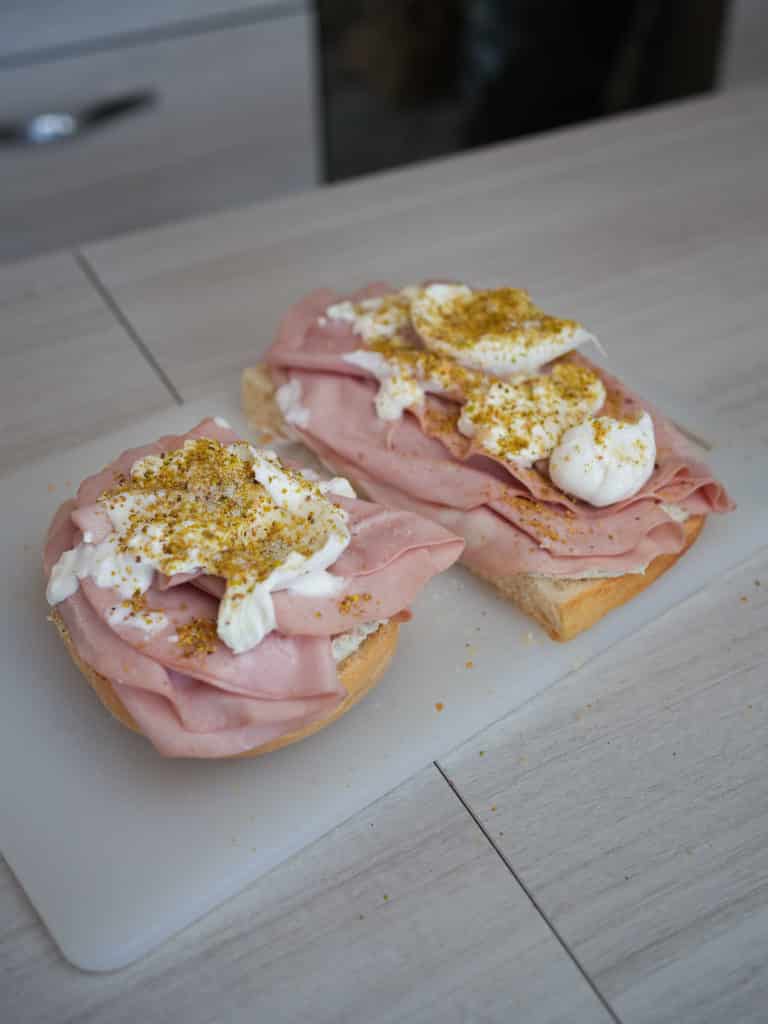 How to make my Mortadella Pistachio Sandwich – Step by Step
This Italian Mortadella Sandwich is quite easy and quick to make. However, shelling and peeling the pistachios definitely takes the most time in this recipe.
Shell the pistachios and if you have the time, also peel them to get a stronger pistachio flavor and a greener cream. I didn't peel them in the recipe video as I didn't have time while filming the video. Then finely grind the pistachios with a blender or food processor.
Mix together the ricotta with the ground pistachios to a smooth spread and season with salt and pepper.
Spread the cream to your Schiacciata or panini bread and layer with the Mortadella.
Now spread the Burrata on top of the Mortadella.
Finally, sprinkle with some ground pistachios, some olive oil, and a little sea salt.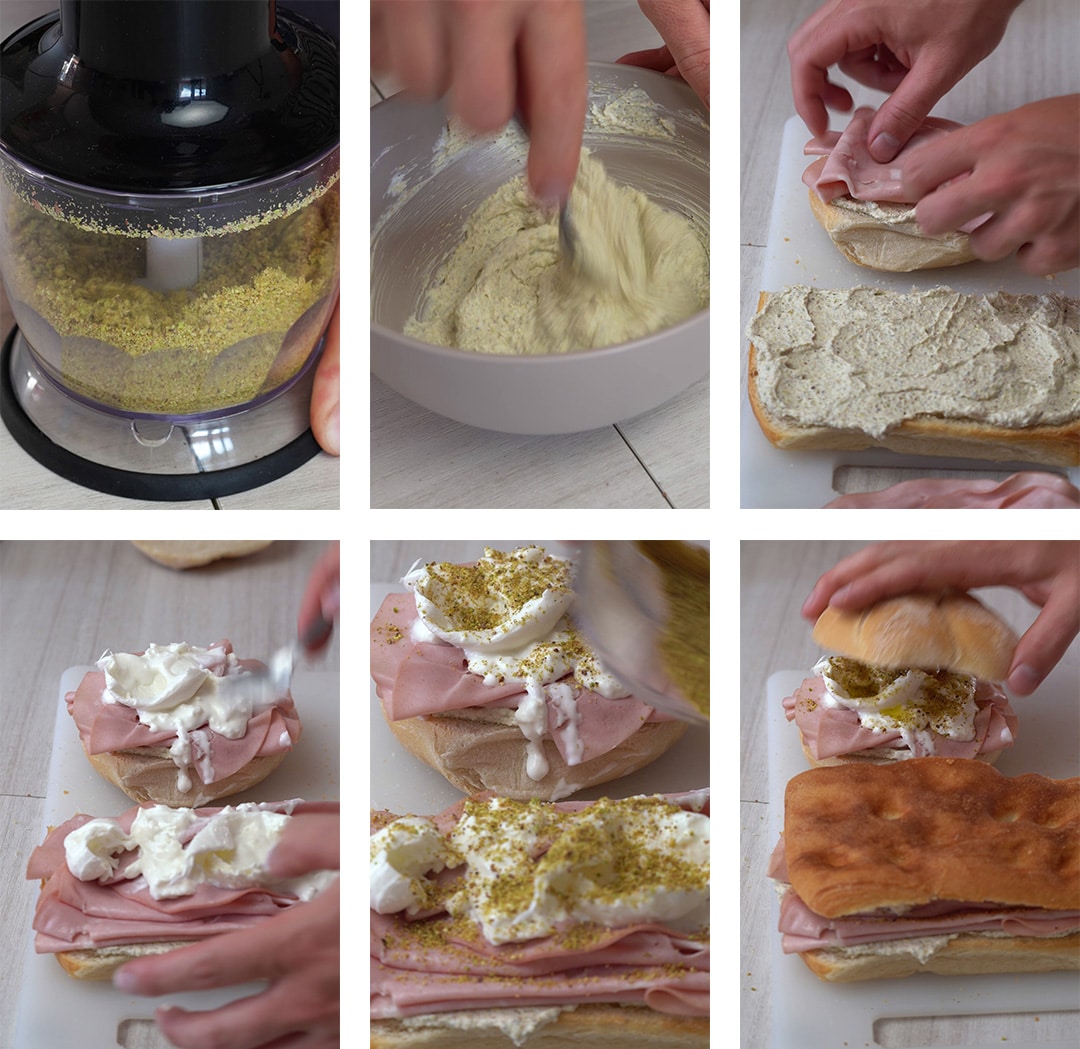 Other Italian Recipes you might like
Did you make this Italian Mortadella Sandwich?
If so, I'm more than happy to hear what you think about it and how it turned out for you! Leave a comment below tag @flavorthoughts on Instagram and hashtag it #flavorthoughts. You can also follow me on YouTube for the newest Recipe Videos,  as well as Pinterest and TikTok.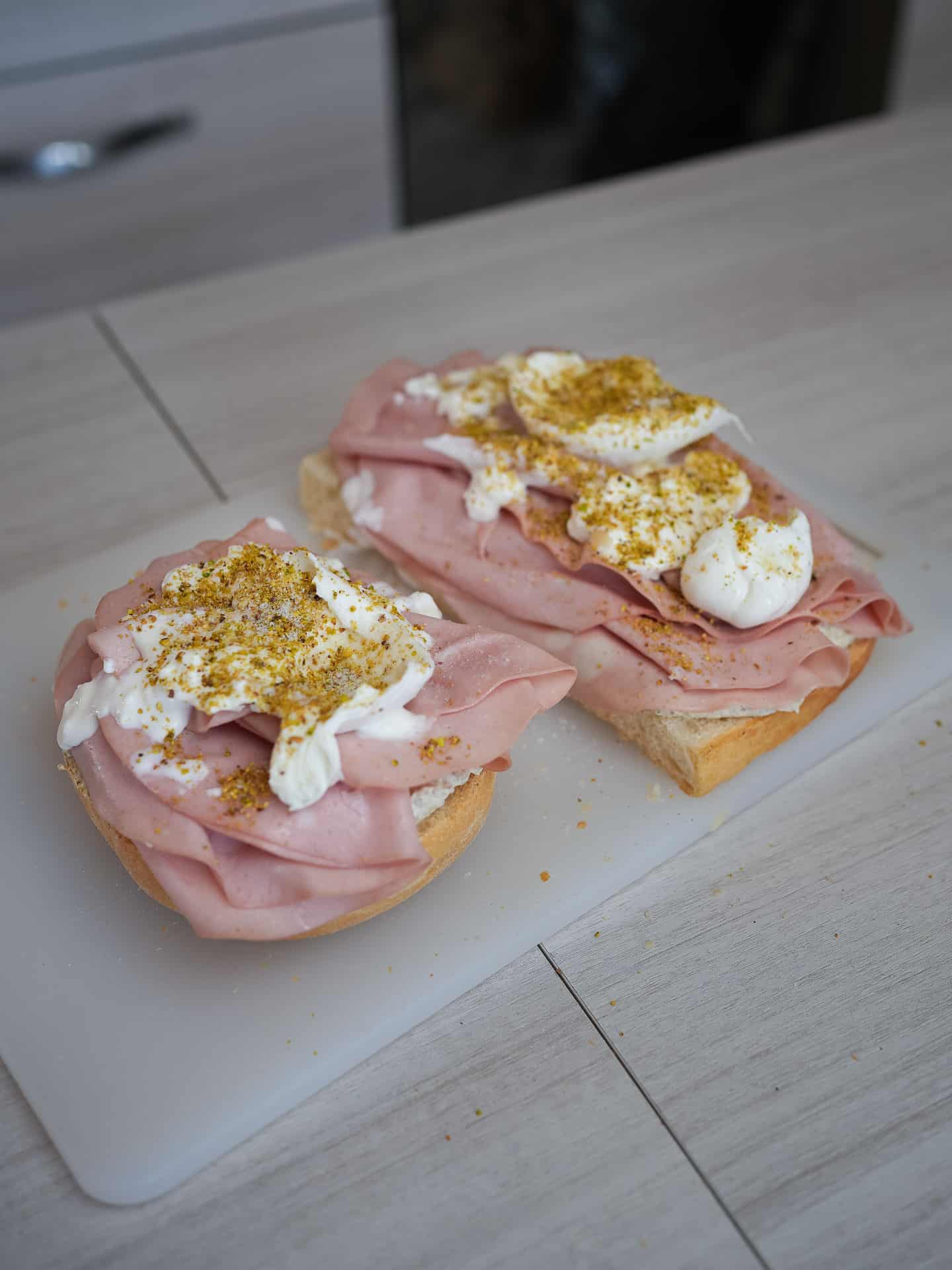 Mortadella Pistachio Sandwich
This Mortadella Panini is a hearty Italian Mortadella Pistachio Sandwich with pistachio ricotta cream and Burrata.
Ingredients
1

large Schiacciata Bread

or Focaccia bread

100

grams

thinly sliced Mortadella

2

handful

Pistachios

150

grams

Ricotta

1

ball

Burrata

about 150-200g

1

pinch

pepper

1

pinch

salt
Instructions
Shell the Pistachios if you haven't bough pre-shelled ones already. If you can and if you have the time, also peel the Pistachios. This will result in a richer nut flavor and a greener cream.

Finely grind the Pistachios in a food processor or with a blender.

If you're looking for a lighter sandwich, you can skip the ricotta and blend the pistachios together with some olive oil and pecorino or parmesan cheese. This will give you a lighter, pistachio-pesto sauce.

Mix well together the ricotta with the ground pistachios to a smooth cream and season with salt and pepper. Spread the cream onto the bottom half of the Schiacciata bread.

1 large Schiacciata Bread,

150 grams Ricotta,

1 pinch salt,

1 pinch pepper

Add the sliced Mortadella and spread the Burrata on top of it. Finely sprinkle with some remaining ground pistachios, some olive oil and a little sea salt.

100 grams thinly sliced Mortadella,

1 ball Burrata
Nutrition
Serving:
200
g
|
Calories:
825
kcal