Linguine Puttanesca or Pasta Puttanesca in general is by far one of the best, easiest to make, and most flavorful Italian pasta dishes. In this authentic Puttanesca recipe, I show you how to make incredibly delicious linguine Puttanesca at home which your family and friends will love!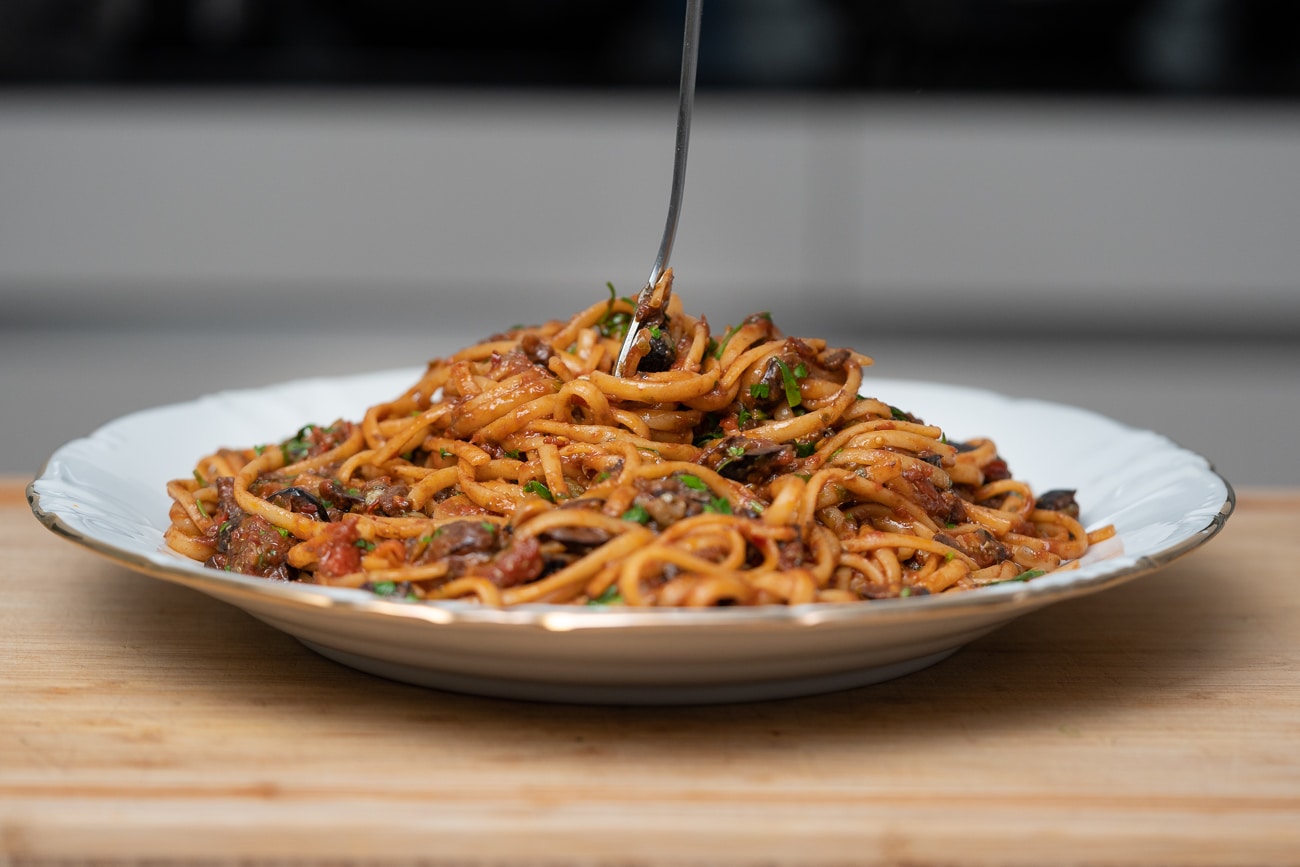 What is Pasta Puttanesca made of?
Linguine alla Puttanesca typically includes salty capers, briny olives, tangy tomatoes, spicy chili flakes, and aromatic garlic. These flavors work together to create a dish that is both bold and satisfying. The combination of these different flavors creates a pasta sauce that is irresistible and which pairs well with a variety of pasta shapes, commonly Spaghetti or Linguine. Linguine Puttanesca can be made in less than 30 minutes using almost entirely ingredients from the larder. This makes it an especially great option for a weeknight dinner.
Best Pasta for Puttanesca
The best and most used pasta shapes for Pasta Puttanesca are Spaghetti, Linguine, or Tagliatelle. Although these are the most used pasta shapes in Italy for an authentic Puttanesca recipe, there is no right or wrong pasta shape. You can use the pasta shape you like, just be sure to use quality pasta to get some starchy pasta water for the sauce.
Pasta Puttanesca meaning – Origin of Pasta Puttanesca
The origin of pasta puttanesca is somewhat disputed. But it is believed to have originated in the mid-20th century in Naples or Rome, Italy. This dish is known for its bold flavors, which are derived from its ingredients such as tomatoes, garlic, olives, capers, and anchovies. The name "puttanesca" literally means "in the style of a prostitute" in Italian, which has led to some colorful stories about the origins of the dish.
One of the theories is that the dish was invented by prostitutes who needed to quickly make a flavorful meal using ingredients that were quickly available in their kitchens. Another theory is that the strong aromas of this fragrant dish were used to lure customers to the brothels. However, there is no concrete evidence to support either of these theories. Regardless of its origins, linguine puttanesca is a delicious and easy-to-make dish that everyone should try.
Puttanesca Ingredients, what you need for an authentic Puttanesca recipe
The goal is to get the ingredients and the different flavors melting together in a creamy, savory sauce leaving a complex and irresistible aroma. A great Puttanesca sauce has its own, super aromatic flavor and none of the ingredients should really stick out. in this regard, its beneficial to cut the ingredients into roughly equal pieces, and step by step infuse them into the oil and the final sauce.
Linguine Puttanesca Ingredients: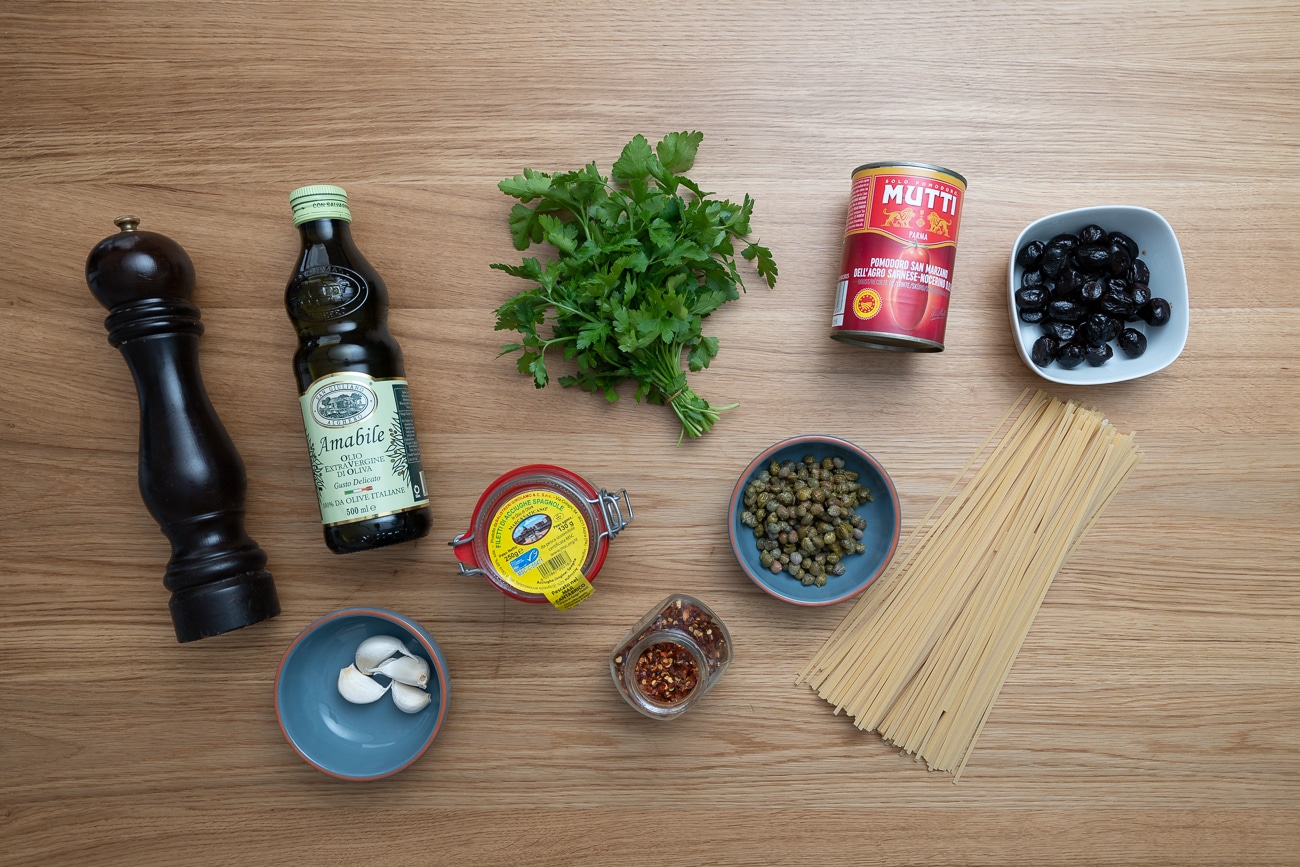 In the image above you see all of the ingredients used in this recipe. As Linguine alla Puttanesca uses a few and almost entirely ingredients from the larder, it is even more important to use quality ingredients. This is mainly related to olives, olive oil,  tomatoes, and anchovies.
Olive Oil
Best use a good quality, preferably Italian Olive Oil Extra-Vergine. Any other good Olive Oil works great as well for sure.
Linguine
In this recipe, I'm using Linguine. With this  Pasta shape, the sauce will stick a bit easier on the pasta compared to Spaghetti.
Anchovies
This is possibly the ingredient that has refrained some people from cooking Pasta Puttanesca before. I can reassure you, however, that the anchovies won't leave a noticeable or overpowering fishy taste in the sauce. However, good anchovies deliver a salty, kind of umami flavor to the sauce. If you don't like the taste of anchovies, you could go for 1-2 pieces in the recipe. And if you can't get enough of them, you can also go up to 8 pieces as well.
Tomatoes
Whole peeled tomatoes are commonly used for a puttanesca sauce. It is preferable to use canned tomatoes here. But you can also take fresh ones and peel them beforehand. San Marzano or similar tomatoes are great as they offer a good balance between sweetness and acidity.
Black Olives
For the most authentic way, go for Italian Gaeta olives. Any other black olives (stoned or pitted) work as well. I normally go for stoned olives, cause they offer a richer taste in my opinion.
Capers
You can use "normal" pickled capers. Wash them slightly and drain them again with a towel before you use them.
Chili Flakes
Italian chili flakes for a tiny punch of heat.
How to make authentic Italian Linguine Puttanesca
As in my Video below, these are the steps for a precious Linguine alla Puttanesca.
Images of the preparation steps you'll find in the printable recipe below.
Preparing the Ingredients
Prepare the ingredients to later infuse and cook them in olive oil. Cut the garlic into slices and roughly chop olives, washed capers so as the parsley.
Making the sauce
For the Puttanesca sauce, add olive oil to a frying pan and cook garlic, anchovies, and chili flakes at medium-low heat for about 3-5 minutes. When the garlic turned golden, add capers and olives and cook for another 5 minutes. Then add the tomatoes, give it a good mix, and cook for another 10-15 minutes at low heat.
Cook the Pasta
Cook the Linguine in salted water for just a few minutes less than al dente. (the pasta will continue to cook a little longer in the sauce later).
Finish the Linguine alla Puttanesca
Mix the pasta with the sauce and add a little pasta water to thin to a creamy sauce.
Enjoy your Pasta!
Other delicious Italian Recipes you might like
Did you make this authentic Puttanesca Recipe?
If so, I'm more than happy to hear what you think about it and how it turned out for you! Leave a comment below tag @flavorthoughts on Instagram and hashtag it #flavorthoughts. You can also follow me on YouTube for the newest Recipe Videos,  as well as Pinterest and TikTok.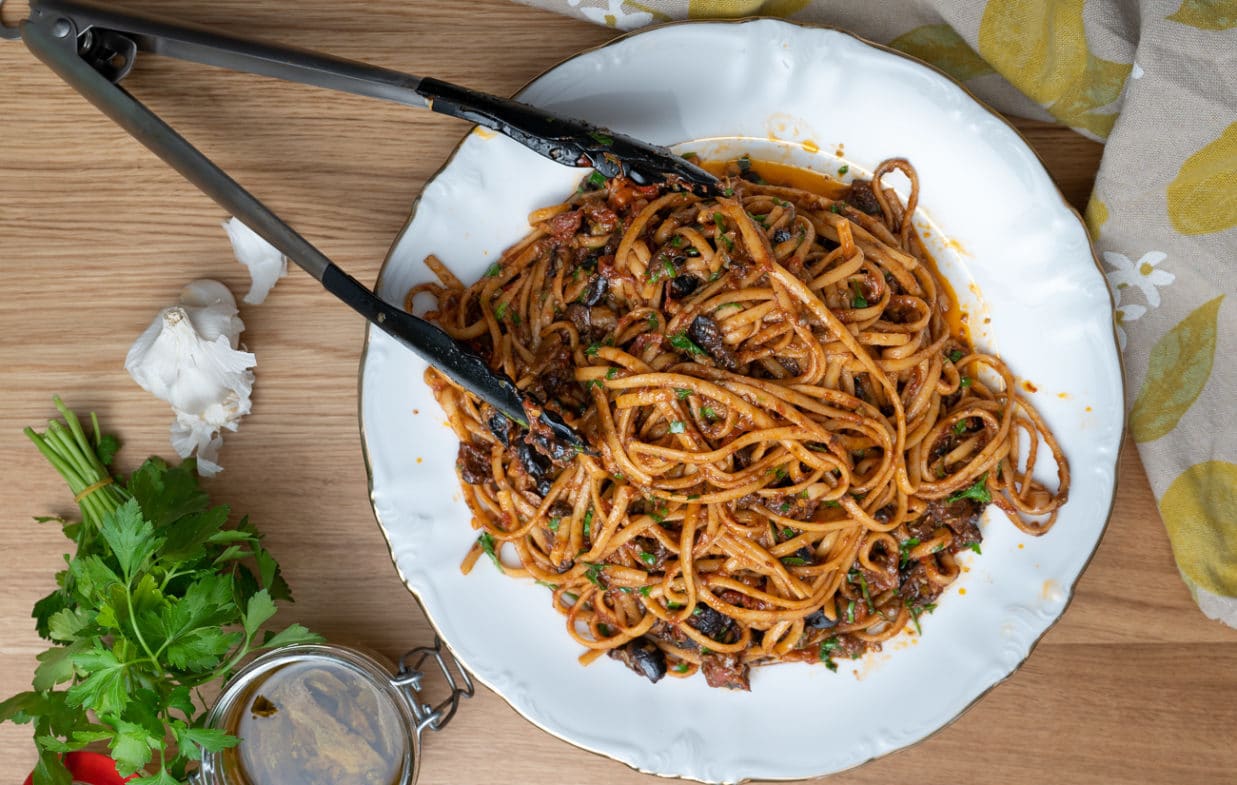 Linguine alla Puttanesca
Super fragrant and easy to make Italian classic Linguine alla Puttanesca. This original Linguine Puttanesca goes great as a weeknight dinner and contains almost entierely ingredients from the larder.
Instructions
Preparation of the Ingredients
peel garlic and cut in slices

give the capers a quick wash and drain them with a towel.

stone the olives and give them a rough chop aswell

chop the parsley and put aside
Making the sauce
put the olive oil into the medium (frying) pan

add garlic, anchovies and chili flakes and stir into the oil

4-6 pieces anchovies,

1 tsp dried chili flakes

cook at medium-low heat for about 3-5 minutes until garlic turns golden

add olives and capers and give it a mix. Cook for another 5 minutes at medium-low heat

add tomatoes and crush them slightly into the sauce. Simmer the sauce for another 10-15 minutes at low heat while preparing the pasta.

400 grams whole peeled tomatoes (1 can)

cook the pasta in salted water just slightly less than al dente, or about 3 minutes less than stated on the packaging.

keep some pasta water and add pasta to the sauce. Cook pasta for 1-3 more minutes in the sauce and add some pasta water to thin to a creamy sauce.

serve and enjoy your savory Pasta Puttanesca!
Notes
As this recipe uses a few and almost entirely ingredients from the larder, it is important to get quality ingredients here. This is mainly related to olives, tomatoes, and anchovies.
A great Puttanesca sauce has its own, super aromatic and complex flavor and none of the ingredients should really stick out.
Nutrition
Serving:
230
g
|
Calories:
700
kcal